Miranda Lambert is gearing up for her release of The Marfa Tapes. The country music star worked on the album with Jon Randall and Jack Ingram. The trio made several trips to Marfa, Texas, where they found freedom in the beautiful landscape, especially amid the ongoing coronavirus pandemic.
It became her solace in this crazy world. Even though The Marfa Tapes was years in the making, she returned to it in September 2020. This album is unlike her previous works since it features nature sounds and has more slower-paced songs. It's obvious that Lambert feels comfortable at this time of her career.
This project allowed her to experiment, lyrics and soundwise. Now, she's hoping that it'll provide fans a sense of "healing."
Teases the release of The Marfa Tapes
On Thursday, May 6, Miranda Lambert took to Instagram to post a new clip from The Marfa Tapes film, which is available to stream on her Facebook page. She is gearing up for the release of The Marfa Tapes, which is the follow-up to her 2018 album, Wildcard. In her Instagram post, Lambert hopes fans find this album as "healing" as she did.
"If we're going through something in life, we know that someone else out there is going through that same thing," she wrote in the caption. "Want these songs to meet y'all where you are and hopefully bring a little healing."
Lambert's post amassed over 8,000 likes and counting. Fans commented that they can't wait to hear the album in full. Others are looking for more work from Lambert, Randall, and Ingram. They feel that the trio makes magic when they work together.
Some also showed their appreciation for the insightful caption. It's clear that Lambert is at a different time in her career. She wanted to break out of her box and do something different than she's never done before. Fans are looking forward to seeing what she's worked so hard on.
How Miranda Lambert is breaking the rules
Miranda Lambert is breaking the rules of country music. Although women are hardly played on country radio, they're still topping the country music charts. Most of Lambert's previous album barely made mainstream country radio. She's no longer making music for country radio anymore.
Instead, she's making music on her own terms. The Marfa Tapes is an acoustic record that includes veteran songwriters Jon Randall and Jack Ingram. They claimed that they recorded everything in one take with one microphone and one acoustic guitar. Fans will also hear the background sounds of Marfa, Texas, which will provide some sort of ambient experience.
Lambert stays true to the Nashville sound while pushing the envelope with the lyrical content. She left her recording studio for an isolated house located in the Texas desert. The trio recorded 15 songs that include animal whaling and bantering. They sound like they're having a good time and wouldn't want to be anywhere else in the world.
The Marfa Tapes drops Friday, May 7.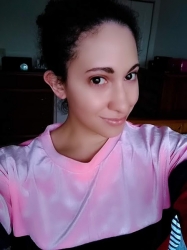 Latest posts by Chanel Adams
(see all)