Carrie Underwood shared a beautiful message for Mother's Day. On Sunday, May 9, the country singer took to Instagram to post a new photo. Carrie kept it simple in a white tank top and periwinkle cycling shorts. She paired her look with a black smartwatch, white sneakers, and a white tote bag left to the side.
She also donned her braided pigtails that she usually wears when she works out. This comes after the singer motivated her fans and followers to work out with her. Carrie has been sharing some of her favorite workouts via her Fit52 mobile app. Last month, she dropped her first-ever gospel album, My Savior.
Carrie Underwood reminds moms to take some "Me Time"
Understandably, Carrie Underwood is a very busy woman. She has an ever-growing health and fitness empire. She's always in the recording studio making music. Carrie can also be seen working out at the gym. While she loves staying busy, she knows the importance of "Me Time."
The 38-year-old shared the latest photo of herself wearing clothes from her CALIA by Carrie line. In the Instagram post, she reminded moms to take it easy on this day. "I hope all you mamas out there are taking a break today to enjoy some me-time! 💐" she wrote in the caption. Carrie also included the hashtags "Happy Mother's Day" and "Choose You."
The mom of two understands that a mother's work is never done. Moms are always doing something, whether it's at home or at the office. Many of her followers took to her Instagram post to wish her a happy Mother's day. However, the official Fit52 Instagram was one of the first to leave a blue heart emoji. Nutritionist Cara Clark wrote: "Aww I love this pic! Fountain of youth is working ❤️ happy Mother's Day!"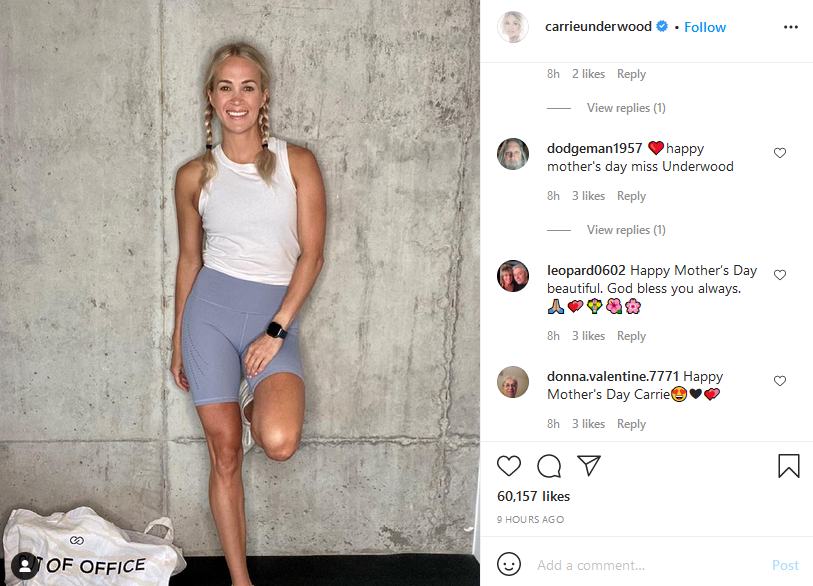 Some fans agreed that Carrie looked like a hot mom. Soon thereafter, her comments section was filled with the fire emoji. Some were completely speechless and didn't know what to leave other than the heart-eyed emoji. Other fans commented how gorgeous Carrie looks when she's not all glammed up.
Suffered three miscarriages in two years
Carrie Underwood is a mom to her sons Jacob and Isaiah with her husband Mike Fisher. In 2018, she admitted that motherhood hasn't always been easy for her. She suffered three miscarriages in two years. In an interview with ET Online, the "Soft and Tenderly" singer opened up about her secret struggles and Christian faith.
"I had an honest conversation with God, and I told him how I felt. I was hurt. I was a little angry and, of course, you feel guilty for being mad at your creator," Carrie said. "And I told him we needed something. We needed to have a baby or not, ever, because I couldn't keep going down that road anymore."
In 2019, the singer made headlines for sharing rare backstage photos at her Cry Pretty 360 Tour. Some of the photos revealed a realistic look into Carrie's family life. She loves having a mom mess everywhere she goes. The American Idol alum keeps it real when it comes to showing parts of her motherhood.
"Sometimes I think people probably think it is, but it's real. I love that our house is a mess and there's toys everywhere. I'm constantly trying to make it not a mess, but it is and that's OK. I love that my life isn't so glamorous."
We here at Country Music Alley wish Carrie Underwood and all moms a happy Mother's Day!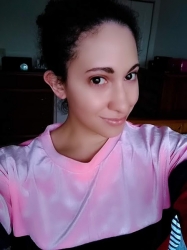 Latest posts by Chanel Adams
(see all)