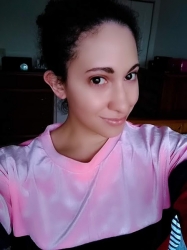 Latest posts by Chanel Adams
(see all)
Carrie Underwood shared a new selfie from her home gym. In her latest Instagram post, the singer showed off her incredibly toned and muscular legs. She encouraged her fans to get their #MondayMotivation on. On Monday, April 26, Carrie took to social media to snap a new selfie from her latest workout.
The "Soft and Tenderly" singer donned braided pigtails, a gray sweatshirt, and white shorts. Carrie paired her look with light pink sneakers and a black watch. She appeared makeup-free and fresh-faced in the snap. The 38-year-old reminded her fans to never forget about leg day. Check out the photo below and get the secrets behind her killer workouts.
Carrie Underwood inspires fans to hit the gym
"About to get some extra credit in this afternoon with the fit52 13-Card Draw! #MondayMotivation #StayThePath CALIA by Carrie," Carrie Underwood captioned the post. The American Idol alum referred to the workout app she developed with personal trainer Eve Overland called Fit52. The app is like a deck of cards that features 52 workouts or 26 exercises, based on the cards that you pull.
There are also some with "Extra Credit," which is 13 exercises. The number that you pull on the card is the number of reps per exercise. Carrie and Eve wanted to make working out fun again. In her Women's Health cover story, she revealed that her fitness trainer travels with her when she's on tour and she loves to work out all seven days of the week.
Carrie also revealed that her leg workout consists of six supersets of three moves: elevated sumo squats (with a 50-pound dumbbell), Romanian deadlifts (with 30 to 35-pound dumbbells), tuck stumps, and walking lunges (with 20 to 25-pound dumbbells). Then, she hits the treadmill for an intense cardio routine. While she has a physically demanding workout routine, she loves to keep her workouts and meals varied.
Working out kept her motivated during COVID
Carrie Underwood tries to have a routine for each day of the week. When she's not working on a surprise album, she can be seen at the gym. Her diet and fitness routine has kept her healthy and motivated during quarantine. In a previous interview with Shape, Carrie shared tips for those who are still trying to find ways to work out amid the coronavirus pandemic.
"We all have enough to worry about and enough to do in our lives. I believe in keeping things as simple as possible—from workouts to skincare," Carrie explained. "The fewer things I have to think about and worry about, the better. If it's too complicated, I'm not going to do it."
Her personal motivational factor is "to be stronger." She loves "seeing muscles and feeling progress." When she looks and feels good in her clothes, she keeps pushing with her workouts. The biggest reward is "running up a flight of stairs" or "picking up my kids or carrying things."
The surprise metal albums on Carrie's workout playlist
Carrie Underwood also revealed that she listens to heavy metal music when she works out. During her CBS Sunday Morning interview, CBS News correspondent Michelle Miller asked the "Hallelujah" singer about what's on her workout playlist.
"[While] working out I honestly listen to like, metal or super hard rock music," Carrie admitted.
oh my god pic.twitter.com/w7HiFej4Pg

— chase. (@cfree94) April 27, 2021
She listens to I Prevail, a heavy metal band from Michigan. Her favorite album of theirs is Trauma. However, Carrie doesn't recommend that young fans should listen to it. "I'm like, 'Don't go buy, you know, My Savior and then go buy Trauma and be like, 'Carrie Underwood told me to."
Check back with Country Music Alley for more news on Carrie Underwood.