Miley Cyrus was the musical guest during Elon Musk's hosted episode of Saturday Night Live. She had an emotional Mother's Day tribute where she covered a song from the legend and her godmother Dolly Parton. On Saturday, May 8, the singer formed Dolly's song "Light Of A Clear Blue Morning," which is off her 1977 album, New Harvest… First Gathering.
Then Dolly re-recorded the song for her 1992 film, Straight Talk. At the time, she wanted to change the lyrics on the second verse. Then, she recorded the song for a third time on her 2003 spiritual album, For God and Country. During Miley's performance, a montage of the SNL cast with their mothers appeared for Mother's Day.
Miley Cyrus performs moving tribute to moms
Miley Cyrus showed off her softer side during the broadcast. She ended her performance by wishing Dolly Parton a happy Mother's Day as well as her own mother, Tish Cyrus, who made an appearance during the segment.
"Happy Mother's Day to my godmother Dolly Parton and to my mom Tish Cyrus," she said at the end of her performance.
This comes after Dolly revealed how she became Miley's godmother. In an interview with Yahoo! Entertainment, the "Jolene" singer admitted that it was her idea to become her godmother. She recalled her friendship and working relationship with Billy Ray Cyrus. Dolly referred to themselves as "country kids" who share a kindred connection.
Happy Mother's Day from SNL! pic.twitter.com/QFaVVGA84r

— Saturday Night Live – SNL (@nbcsnl) May 9, 2021
"We just had a lot of fun talking about that," Dolly said. "So when Miley came along, I said, 'She's got to be my fairy goddaughter."
Dolly and Miley have developed a strong bond over the years. The "Midnight Sun" singer often talks about the lessons that her "Aunt Dolly" taught her throughout her life. Miley also calls her a "fairy godmother" and a "living angel on earth" because Dolly takes the time to listen to everyone she speaks with. Dolly taught Miley "how to glue down a wig, use a bedazzler, and treat everyone with kindness."
Check out her other performances
Later in the show, Miley Cyrus performed her hit song "Plastic Hearts" in a fringe dress. She also performed a remix of "Without You" alongside The Kid Laroi. This is the first time that she performed the song live. In other parts of the show, Miley wore a Space-X-themed outfit where Grimes made an appearance to play Princess Peach in a skit about Super Mario villain Wario put on trial for the death of Mario.
Miley Cyrus performing Plastic Hearts on SNL!pic.twitter.com/AQYLJKvLsW

— Miley Nation (@MileyNation13) May 9, 2021
Miley Cyrus & The Kid Laroi performing Without You on SNL for the first time. #MileyOnSNLpic.twitter.com/mToYLBjKjx

— ` (@MileyDinasty) May 9, 2021
Miley dropped her latest album Plastic Hearts last year. It included collaborations with Billy Idol, Dua Lipa, Joan Jett, and Stevie Nicks. She has also collaborated with the legendary Dolly Parton in the past. Fans fondly remember Miley's "Happy Hippie" sessions when she would cover Dolly's classic songs.
What are your thoughts on Miley's cover? Sound off below in the comments.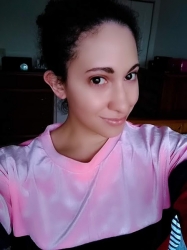 Latest posts by Chanel Adams
(see all)