Kelly Clarkson did it again. The talk show host blew viewers away with her cover of Aerosmith's hit song "Dude (Looks Like a Lady)." The epic performance during the Monday, May 10 broadcast of her daytime show. Clarkson wore a multi-colored blouse and skirt with a brown striped tie undone around her neck.
Her outfit was giving fans major early '00s vibes. They recall when Clarkson would dress like this during her Breakaway days. But instead of her outfit, her impressive vocals were on display. When the song came to a close, Clarkson repeated the track's title in a way that would make Steven Tyler proud.
Check out this rock-and-roll cover
Once again, Kelly Clarkson and her house band impressed her fans with this Aerosmith cover. They immediately flocked to the comments section of the YouTube page. Fans are divided on which genre they want her to sing. Some prefer when Clarkson sings country music while others love it when she sings soul or R&B. There are also some who love it when rock-and-rock Kelly Clarkson comes to play.
"Wow! Who else had their wig flying after this performance?"
"She should totally do more rock songs!!!!"
"Kelly is the Best! Her Rocker spirit is amazing. She's just the best vocalist ever."
"While her versatility and talent allow her to sing anything, she excels at pop/rock songs. Her voice can make you weep, and the next minute, want to dance. I personally love the edgier Kelly. No one does it better."
"We know that she'll rock the hell out when it's an Aerosmith song. Fire!"
"Dude (Looks Like a Lady)" was the 1987 hit from the band's album Permanent Vacation. The single became a huge hit. What helped at the time is that the music video was on heavy rotation on MTV. The single hit No. 14 on the Billboard Hot 100.
"Dude (Looks Like a Lady)" was the band's first appearance in the Top 20 since "Walk This Way" in 1977. It also followed the band's 1986 collaboration with RUN D.M.C. on the remake of the classic song. This isn't the first time that Clarkson has covered the group. She performed their other songs in the past.
Kelly Clarkson covered Aerosmith before
Kelly Clarkson previously performed renditions of their hit songs "Cryin'," "Dream On," and "Don't Want to Miss a Thing." Some fans feel that the American Idol alum should become the new lead singer of Aerosmith since Tyler is aging. It's not unheard of for Idol singers to become the new lead singers of classic rock bands. Adam Lambert sings and performs with Queen.
The original American Idol champion amazed viewers with her hypnotic version of these hit songs. Fans have run out of words for her electrifying "Kellyoke" covers. What are your thoughts? What's your favorite Aerosmith cover? Sound off below in the comments.
The Kelly Clarkson Show airs on weekdays. Check local listings for details.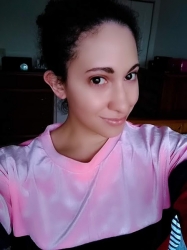 Latest posts by Chanel Adams
(see all)