Mariska Hargitay made an appearance on The Kelly Clarkson Show. The Monday, May 10th broadcast was about all things New York City. The Law & Order: Special Victim Unit star said that she loves the Big Apple for its Broadway shows, which have been shut down due to the coronavirus pandemic. Mariska got emotional when she recalled the time she heard Kelly's Hamilton cover.
She broke down when she talked about her favorite musical. Mariska praised Kelly for her beautiful cover of "It's Quiet Uptown" from The Hamilton Mixtape. Fans have been praising Kelly for her incredible covers. They looked forward to seeing what she's going to perform every day.
Kelly Clarkson makes Mariska Hargitay emotional
During their interview, Mariska Hargitay got choked up. She asked Kelly Clarkson if she can tell her something. "I don't know if you know this about me, but I'm a huge Hamilton fan and I'm only second to Rosie O'Donnell in terms of how many times I've seen Hamilton." The NBC star saw the popular Broadway show 22 times. Mariska called it a "very profound experience" since she saw it on opening night.
She and her husband, Peter Hermann, couldn't help but be overcome with emotion. Then Mariska admitted that she listened to The Hamilton Mixtape and she broke down when she heard Kelly's rendition. It still makes her emotional to this day. She couldn't help but cry when she thought about it.
Mariska told Kelly that she could relate to her on an artistic level and she wanted to share that. The talk show host sat there in shock. She didn't know what to say. Then, Kelly responded, "That made me feel really good. Thank you. I'm going to tell everyone that now." Mariska explained that the "depth" that Kelly took into the song just "slayed me."
The American Idol winner joked that it was the "best compliment ever." Clearly, her day was made and so was Mariska's life. The Hollywood star said that the "entire country would agree with me." Kelly told Mariska that the compliment "literally just made my day."
What do Hamilton fans think?
Fans took to the comments section on the YouTube video to share their thoughts. Most of them love the rendition that Kelly Clarkson sings on The Hamilton Mixtape. One wrote: "Her rendition is THAT good!!!" while another added: "Mariska obviously has TASTE."
Some added that Kelly's cover of "It's Quiet Uptown" is devastatingly good and emotional. Not only did fans share their praises for Kelly, but they also talked about how much they love Mariska and her love for Hamilton. Check out her cover in the video below.
So far, over 3 million fans have listened to Kelly's version of "It's Quiet Uptown" on YouTube. One wrote: "Her version kills me. You can hear the pain." Another wondered what Kelly could do with the tracks "Hopeless" and "Burn." What are your thoughts on Kelly's version of "It's Quiet Uptown"? Sound off below in the comments.
The Kelly Clarkson Show airs on weekdays. Check your local listings.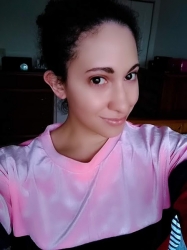 Latest posts by Chanel Adams
(see all)