Did Taylor Swift drop another hint about 1989 (Taylor's Version) at the BRIT Awards? That's what her fans are thinking. The "Willow" singer stepped out to the music awards ceremony on Tuesday, May 11. Yet again, Swift surprised fans with a new look.
They noticed that her hair looked longer and featured bangs, much like during her RED album era. Then they realized that Swift's outfit looked reminiscent of her 1989 era. Fans recalled when the singer always wore crop tops during the album era. Swift also wore one of the designers that she turned to a lot during the 1989 era.
Folklore singer teases 1989 (Taylor's Version) at the BRIT Awards
Taylor Swift had fans doing a double-take. She showed up to the 2021 BRIT Awards in a gray matching set that featured an embezzled bustier featuring rhinestones with a high-waisted skirt from Miu Miu. Swift often used the Prada subsidiary during the 1989 era. The "Cardigan" singer accessorized the look with her hair styled in soft waves and accented with bangs.
"Spinning in my highest heels, luv," she captioned her social media post.
She also went back to her signature red lipstick. This comes after the singer-songwriter dropped many 1989 hints in her interview on Late Night with Stephen Colbert. Swift went on the show to promote her latest album, Fearless (Taylor's Version). In a funny segment, she explained whether the track "Hey Stephen" was about Stephen Colbert.
Spinning in my highest heels, luv #BRITs pic.twitter.com/1TMBoCZ6Do

— Taylor Swift (@taylorswift13) May 11, 2021
Swift wore a cardigan during the segment. She probably wore it as a distraction because she was making many 1989 references such as her love for New York City, which she moved to during that time. Fans have a feeling that she will either release a new song or making an announcement about that album soon. Swift is in the midst of re-recording her previous sixth albums.
ok but. so her outfit screams 1989 but her hair… looks like the red era…. taylor is like "if I hint at every album they'll never know" lmaoooo pic.twitter.com/jfFx14vGCA

— Kristin 💛💛 (@kristin_kitkat) May 11, 2021
Taylor Swift wins Global Icon Award
The songstress attended the BRIT Awards where she received the Global Icon Award. Taylor Swift is the first female artist and non-English artist to receive the honor, per Billboard. Previous winners include David Bowie (2016), Elton John (2014), and Robbie Williams (2017). Swift made an emotional acceptance speech.
"If you're experiencing turbulence or pressure, that probably means you're rising. And there might be times when you put your whole heart and soul into something and it is met with criticism or skepticism," Swift said. "I need you to hear me when I say that there is no career path that comes free of negativity. If you're being met with resistance, that probably means that you're doing something new."
A word from global icon, Taylor Swift. #BRITs https://t.co/tbtZBvWuol pic.twitter.com/Oml4B9qz7W

— E! News (@enews) May 11, 2021
The international pop star told her fans to let those moments "fuel" them and not to listen to what others say. Swift finished with the inspiration message: "But please remember that you have the right to prove them wrong." The Global Icon Award was given "in recognition of her immense impact on music around the world and incredible repertoire of achievements to date."
What are your thoughts? Do you think Taylor Swift is making an announcement about 1989 (Taylor's Version) soon? Sound off below in the comments.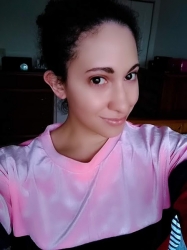 Latest posts by Chanel Adams
(see all)