Is Kelly Clarkson getting cozy with Bradley Cooper? The rumor mill is talking since the singer is in the midst of her split from estranged husband Brandon Blackstock. In June 2020, she announced their divorce on her daytime talk show. Clarkson has been open about her personal life on the show.
In February, she promoted the "Singlehood Celebration" during the week of Valentine's Day. At the time, Clarkson made it clear that she wants to stay single. The "Because Of You" singer has a feeling that she won't get married again. Instead, she's been nursing her heartbreak with writing music.
According to a pop culture Instagram account, Clarkson may have found love with Cooper.
Deuxmoi posts tea about Kelly Clarkson and Bradley Cooper
On Tuesday, May 11, Deuxmoi posted two scoops about two different celebrity couples. The first hinted that an A-list couple is about to announce their divorce soon. Apparently, they worked together on a television drama. It's a split that no one ever seen coming, according to Deuxmoi's sources.
That same source revealed that something is happening between Kelly Clarkson and Bradley Cooper. They are filming something for her talk show that won't air until the fall season. Somehow, Zack Galifianakis is also involved with their top-secret project. As a result, Clarkson and Cooper have been spending a lot of time together, but they're just in a "platonic" relationship.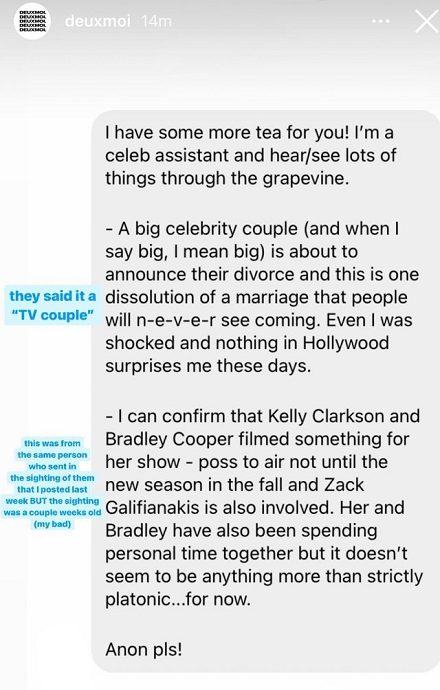 Obviously, this had fans wondering if Clarkson and Cooper are dating. Some even looked for clues on the videos posted on The Kelly Clarkson Show YouTube page. Only one interview stood out and that is her interview with Ed Helms. Two weeks ago, he revealed that Bradley Cooper when he puked in between scenes of The Hangover Part II.
Shortly after the rumors swirled, Deuxmoi returned to Instagram Stories to say the rumor was just that — a rumor. The same source who claimed that an A-list couple was about to announce their split also got the news about Clarkson dating Cooper wrong. Someone who works in production for The Kelly Clarkson Show confirmed that Cooper never worked with her and won't be in the future.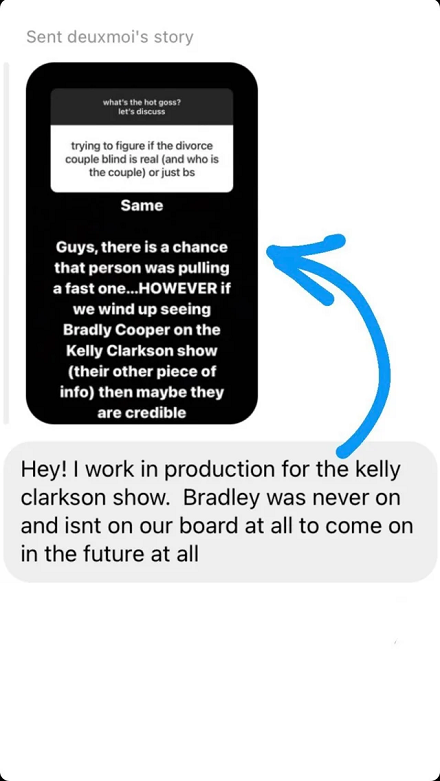 The Voice coach wants to stay single
Kelly Clarkson is remaining single after her divorce. She wants to make that clear to everyone out there. On Valentine's Day, she hosted a "Singlehood Celebration" with a group of single women. During a Q&A, a virtual attendee asked Clarkson, "What's something that you pretended to be cool with that you weren't cool with while in a relationship?"
"I dated this guy and I think because I'm a singer/songwriter, if you date them, they feel like, 'Oh, I'm going to write her a song'," Clarkson said with a laugh before adding, "Don't."
Clarkson also made it clear that she's focusing on herself and her kids, River Rose, 6, and Remington, 4. She loves spending time alone drinking a glass of wine in front of the roaring fireplace. Or, she'll binge-watch Netflix or have a girls' night. Clarkson would rather be "having fun and talking" than romancing.
What are your thoughts on the Kelly Clarkson and Bradley Cooper dating rumors? Sound off below in the comments.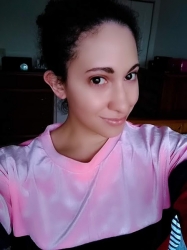 Latest posts by Chanel Adams
(see all)