Kelly Clarkson doesn't want you to take it personally. She's just having one of those days. During the Wednesday, May 12 broadcast of her daytime show, she performed her version of "Don't Take It Personal (Just One Of Dem Day)" by Monica. Fans agreed that Clarkson slayed this cover.
Once again, the singer threw it back for her latest "Kellyoke" segment. One lucky fan chose her to perform Monica's '90s classic song. Of course, Clarkson wasn't totally on her own. Her house band Y'all joined her for this jazzy rendition. This catchy cover will have you singing this song all day long.
Performs "Don't Take It Personal (Just One Of Dem Days)"
Dallas Austin, Derrick Simmons, and Willie James Baker wrote "Don't Take It Personal (Jut One Of Dem Days)" for Monica's debut album, Miss Thang. The 1995 song samples "Bring The Noise" by Public Enemy and "Back Seat (Of My Jeep)" by LL Cool J, which samples parts from the song "You're Gettin' a Little Too Smart" by The Detroit Emeralds. Due to the inclusion of the samples, other songwriters are credited on the song.
Monica released the song in 1995. The single sold 1.2 million copies domestically before it went platinum in the U.S. It spent two weeks at No. 1 on the U.S. Billboard Hot R&B Songs chart and peaked at No. 2 for three consecutive weeks on the Billboard Hot 100. "Don't Take It Personal (Just One Of Dem Days)" and "Before You Walk Out Of My Life" made Monica the youngest artist to have two consecutive No. 1 hits on the Billboard R&B chart at just the age of 14.
This mid-tempo bop draws influences from both hip-hop and R&B musical genres. Fans love it when Clarkson sings R&B. They feel that her soulful vocals make for a perfect match. The accompanying music video was shot in black-and-white and dropped in June 1995.
Kelly Clarkson kills this cover
During the Wednesday episode, Kelly Clarkson and her band Y'all performed a catchy version of the cover. They jazzed it up for this performance. Clarkson wore a black-and-white animal print dress. She paired the look with black ankle boots and hoop earrings.
Fans love hearing this upbeat version of Monica's song. "Kelly can sing any genre WOW so great!" one YouTube viewer wrote. "This is the Monica cover I needed!! Just over here grooving and feeling all the 90s feels," another added. Some fans wanted to see Monica's reaction to Clarkson's cover.
"Just one of them regular 'ol days when Kelly slays another cover!"
"Amazing Kelly Clarkson made my morning."
"Girl you never disappoint! I live for your covers! 🔥🔥"
"I needed this."
"I love Kelly, I hear her singing in the opening of her show and it makes me Tune in and want to watch!!"
Monica should not take it personally that Clarkson said she would trust Brandy to keep her biggest secret. Country Music Alley previously reported that the singer played a '90s version of "Would You Rather" on The Kelly Clarkson Show last week. During the segment, Clarkson had to choose between Brandy and Monica.
"I've met Brandy and I'd trust 'Sittin' Up in My Room,' anybody who could write that jam. I would trust her with anything," she responded.
What are your thoughts on her "Kellyoke" cover of "Don't Take It Personal (Just One Of Dem Days)"? Sound off below in the comments.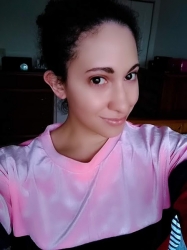 Latest posts by Chanel Adams
(see all)