Miranda Lambert talked about her new restaurant, Casa Rosa. It's something she wanted to work on for some time. She wanted to start an establishment that catered to women. However, it's not a girls' only restaurant. Anyone can come in, have a drink, and enjoy a meal.
They're just going to notice a lot of girly touches. In March, Lambert made history when she announced her business venture. In a partnership with TC Restaurant Group, she founded the first bar in downtown Nashville that's owned by a female country artist. The country singer continues to be a trailblazer for other women in the country music industry.
Miranda Lambert wanted a bar that "plays more toward the girls"
In a new interview with CMT Radio's Cody Alan, Miranda Lambert talked about her new Nashville bar. The venue will finally open its doors in the summer. During the interview, Lambert shared what fans can expect from the place. Of course, it's going to have touches of the "Little Red Wagon" singer's personal style and love for everything country.
"It's got some girly touches for sure," Lambert agreed. "It's pretty much all boys down there with the bars as it is now and I am seeing more and more bachelorette parties every single day, I mean I ran into about three different groups of them at the airport the other day so I was like, 'We need something that plays a little more toward the girls.'"
Ladies, looking for a good time?! @MirandaLambert has you covered! Get all the details on her new spot where you can party Miranda style! pic.twitter.com/dlNOQPQ2aT

— CMT Hot 20 Countdown (@cmtHot20) May 13, 2021
Even though it's located in Nashville, it will also pay homage to Lambert's home state of Texas. The country superstar returned to her state earlier this month. She performed a series of shows, which was an emotional experience for her. Lambert said that there will be a "friends and family" day where they will invite fellow Texans once they get final approval due to the coronavirus pandemic.
What's on the menu at Casa Rosa?
Miranda Lambert also talked about the menu. Fans can expect tacos and tequila to take over the menu. They will become the "primary dishes" of Casa Rosa. Lambert played a huge role in choosing the dishes, appetizers, sides, desserts, and drinks on the menu. She's already done several tastings for the different offerings.
Lambert's favorite drink is the "Randarita." She called it an "ever-evolving" version of the classic drink. Lambert collaborated with TC Restaurant Group, which has also worked with other country artists including, Florida Georgia Line's FGL House and Jason Alden's Kitchen + Rooftop Bar. Casa Rosa will stand out from the others by having three floors of live music and a rooftop bar.
The "Pink House" will also include Lambert's iconic memorabilia, including clothing and set pieces from her video shoots, a rhinestone saddle replicated after her favorite one from Billy Bob's in Fort Worth, and the bluebird from her chart-topping song and hit video, among others. Lambert also worked on her new album, The Marfa Tapes, alongside Jon Randall and Jack Ingram, which released on May 7.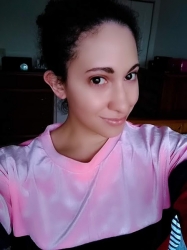 Latest posts by Chanel Adams
(see all)