Miranda Lambert made music history last week when she announced the opening of her newest business venture, Casa Rosa. Lambert is partnering with TC Restaurant Group to create the first bar in downtown Nashville owned by a  female country artist. Miranda is excited about her restaurant and gave her fans a taste of what to expect decor-wise on Instagram. Miranda showed off her Red 55 Winery signature logo above the bar name. And now fans know that Lambert is going back to her roots and creating a Tex-Mex restaurant and cantina.
The picture Miranda Lambert posted proudly shows what might very well be the entryway for her new restaurant. She wrote that she is " so excited I'll have a honky tonk with my name on it!" The picture also gives fans a hint at the decor and memorabilia that will be displayed.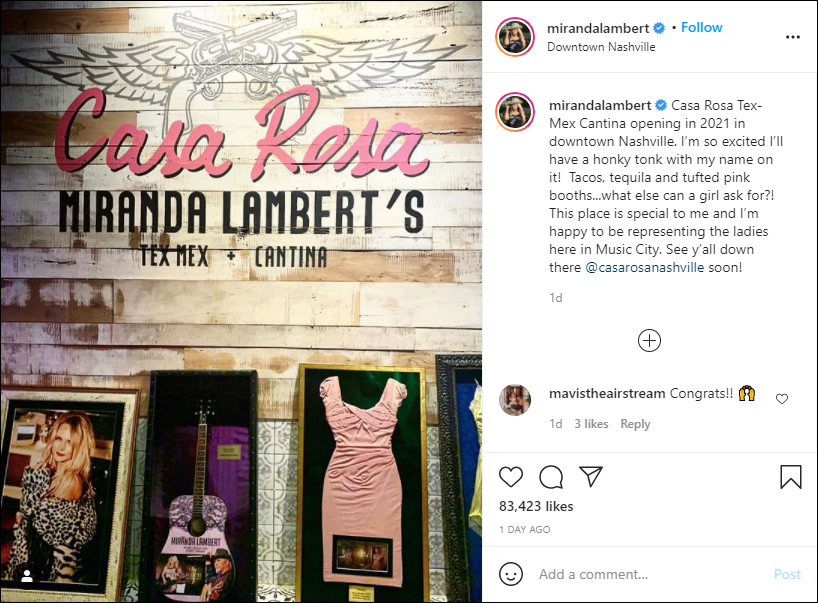 Showing off the decor
Permits pulled for building renovations gave fans an idea of the layout of the restaurant. The renovations will be creating a mezzanine, second-floor bathrooms, and multiple bar updates. But the building altogether the restaurant will have three floors with live entertainment and a rooftop bar. Miranda is really going big on this space. She specified another detail that might be playing to the ladies more than the men. "Tacos, tequila and tufted pink booths…what else can a girl ask for?!"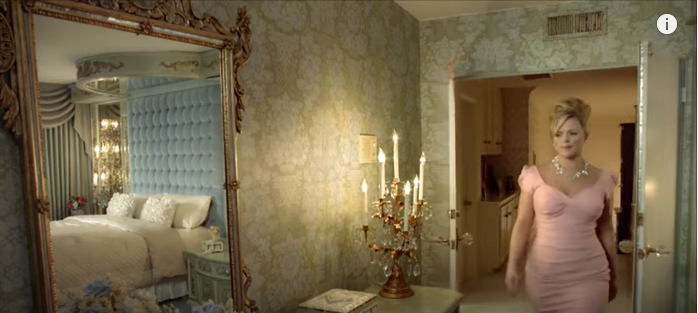 Pink booths, now that is going to be a look that lots of fans will travel to see. But given that Casa Rosa literally translates to "Pink House" the color scheme fits. Miranda's Instagram is already filling up with comments like one fan saying, "sounds like a girls trip to Nashville is in our future." But the signature decor is not the only special thing about Casa Rosa. Miranda's picture showed several items of memorabilia from Miranda's career including a dress from her "Mamma's Broken Heart" music video. Other costumes will also be featured and the birdcage from her hit "Bluebird" video.
Miranda Lambert blazing a new trail
Miranda is cutting a new trail for females in country music with Casa Rosa. She is an artist at heart but a skillful entrepreneur outside the studio and off the stage. Lambert has built multiple businesses that are thriving and growing. Idyllwind, Red 55 Winery, The Pink Pistol, and MuttNation are all part of Miranda Lambert's vision.
She has her eyes are bigger things, but she never forgets her roots or who she is as a person. She is bringing a taste of her home state to Music City so she can have a bit of Texas in Tennessee. "This place is special to me and I'm happy to be representing the ladies here in Music City."
TC Restaurant Group also partnered with Florida Georgia Line, Luke Bryan, and Jason Aldean on their Lower Broadway restaurants.
Are you going to take a trip to visit Miranda Lambert's Casa Rosa? Let us know in the comment section below. Come back to Country Music Alley for more news about your favorite Country stars.
Latest posts by Mandy Robinson
(see all)