Miranda Lambert performed a track from her new album, The Marfa Tapes. Earlier this week, the singer took to the stage on The Late Show with Stephen Colbert. Jon Randall and Jack Ingram joined her for a performance of "In His Arms." During the segment, she wore a black crochet dress.
Her signature blonde hair was styled straight and slightly tousled. Lambert channeled an early '60s mod queen. Somehow, her ensemble perfectly paired with her flawless performance. Lambert proved why she consistently released hit songs since 2003. Fans will be happy to see this latest performance after she took over the 2021 ACM Awards.
Miranda Lambert performs the track from The Marfa Tapes
Miranda Lambert performed alongside her veteran collaborators Jon Randall and Jack Ingram. They sang "In Her Arms" from their new collaborative album, The Marfa Tapes. Their performance was so polished, it was easy to forget that it took place live on television. Lambert's performance was free of flaws and showed off her beautiful vocals.
On the track, Lambert sings about a man she met and shared a dance with years ago. She sings that she wishes she was in his arms and wonders if he feels the same way about her. "In His Arms" shows how fleeting love can happen at any point in our lives. Many fans can relate to it.
"Is he praying for rain, out in West Texas?" Lambert sings. "Is he lost in the Marfa lights? Is he out there looking for me? Wishing I was in his arms tonight. I wish I was in his arms tonight."
The song is "raw, romantic, and real," per Outsider. Pitchfork described The Marfa Tapes as a romanticization of songwriting in country music. The contributor added that the album is "a late-night love letter to its myth." Lambert, Randall, and Ingram recorded the 15-track album at a ranch in Marfa, Texas.
"Bluebird" singer was unsure about releasing the new album
Miranda Lambert received rave reviews and high praise for her new album. However, she felt nervous about releasing it. She feels that releasing an unedited album is "scary." Lambert previously shared a video of herself performing "Tin Man." During the video, she sits on the back of a truck as she sings and plays the guitar.
"It's like we're taking people on a really raw and intimate journey," Lambert says in the video. "It's scary, it's risky. And it's very very vulnerable to not have any fixes. Not have any production. To just let the wind blow and the birds and the cows, and kind of let it be."
Also, Lambert released The Marfa Tapes film via her Facebook page. The film described the process for making the album. The trio recorded each song in one take using one microphone and one acoustic guitar. What are your thoughts on Miranda Lambert's performance? Sound off below in the comments.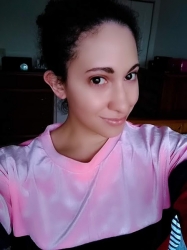 Latest posts by Chanel Adams
(see all)