Blake Shelton knows a lot about his fiance Gwen Stefani. The two knew each other since they started dating in 2015. In late October 2020, Blake finally popped the question to the No Doubt singer. The couple is currently planning their upcoming summer nuptials.
In the meantime, the "Minimum Wage" singer paid a visit to The Kelly Clarkson Show on Monday, May 17. Blake and his fellow coaches — John Legend and Nick Jonas — discussed Season 20, which is coming to an end. The four coaches got together to play a game of "Throw Me a Line," in which Blake lost to one of them.
Couldn't name a Gwen Stefani song
The four coaches were split up into two teams. Kelly Clarkson and John Legend made up one time, while Blake Shelton and Nick Jonas were on the other team. They also got into a battle of the sexes. If Shelton and Jonas won, the men in the audience would win a prize. If Clarkson and Legend won, then all the women in the audience would win instead.
Clarkson also said that if they won, she would remove Shelton's picture from Blake Shelton's Wall of Champions, which hangs behind the contestants throughout the game. Clarkson was able to guess Garth Brooks' hit song "Friends in Low Places." Jonas immediately knew The Jackson 5's smash hit "ABC."
Legen correctly guessed Whitney Houston's "I Wanna Dance With Somebody." Shelton was doing well when he guessed Kenny Loggins' 'Footloose." However, Clarkson got in ahead of them when it came to guessing the song with the lyrics, "A few times I've been around that track / So it's not just gonna happen like that." Shelton drew a blank while Clarkson and Legend sang along to the song.
The lyrics come from Gwen Stefani's hit song "Hollaback Girl," which was featured on her 2004 debut solo album, LOVE. ANGEL. MUSIC. BABY. Unsurprisingly, Clarkson and Legend won the game. They removed Shelton's photo from the wall. What's even more embarrassing is that Shelton will have to explain to Stefani why he couldn't guess her song correctly.
Blake Shelton gushed over fiance
While he couldn't guess her hit song, Blake Shelton made sure to gush over meeting her on the set of The Voice. Blake Shelton called it the "greatest thing" to happen to him. On The Voice's 10th anniversary special earlier this month, Shelton looked back at the past 20 seasons. He usually cracks jokes on the show but got serious when he talked about one of his "greatest" moments from the show.
"People ask me all the time, 'What's the greatest thing that has happened for you since you've been on The Voice?'" he recalled. "That's a no-brainer, right? I met my fiancée here. It's hard to resist Gwen Stefani. You know, here's this iconic rock star coming to be a coach on The Voice in a black minivan. That was cool to me."
Shelton and Stefani met on the set of The Voice in 2014. In The Voice clip posted on Instagram, he admitted that he never expected them to date. He also said that Stefani brought a "very complicated element of competition" for the show. Shelton previously said that Stefani "surprised everyone with a performance of 'Hollaback Girl'" and after that "they announced that she was going to be a coach."
Sadly, Shelton couldn't remember the lyrics. So, he ended up losing to Clarkson and Legend. What are your thoughts? Sound off below in the comments.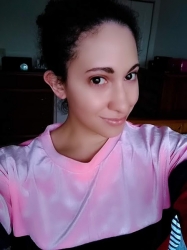 Latest posts by Chanel Adams
(see all)