Kelly Clarkson impressed fans with a cover of this Cher hit. On the Friday, May 21st broadcast of The Kelly Clarkson Show, the daytime talk show host and her band Y'all performed a swinging rendition of Cher's cover of "The Shoop Shoop Song (It's In His Kiss)" by Betty Everett. The hit song was featured on the soundtrack to the 1990 film Mermaids. Of course, Clarkson showed off her powerful vocals and showed off some sass when she performed the song.
Rudy Clark wrote the song "It's In His Kiss." In 1963, Merry Clayton released the single that did not top the charts. It became a hit a year later when Betty Everett recorded it. The song went No. 1 on the Cashbox Magazine R&B charts in 1964. Since then, it has been recorded by many artists, including Cher in 1990.
Kelly Clarkson performs a roaring rendition
The Voice coach covered Cher's version of "The Shoop Shoop Song (It's In His Kiss)" during Friday's "Kellyoke" segment. Kelly Clarkson put her own magical twist onto the cover. Her version will certainly get you dancing in your seat. She kept up with the pace of the energetic song.
The singer also showed off her vocal range at the 1:20 mark. She wowed the audience when she hits a high note when she sings, "It's in his kiss." Fans were once again reminded why Clarkson is the original American Idol. Not only can she sing anything, but she also has such raw, incredible talent.
"Kelly can make every song her own, She's truly amazing!"
"whenever she hits those high notes…. it gives me goosebumps!"
"Such a powerful voice and just love the way she gets into the music."
"Absolutely love listening to all of the covers you do Kelly. You're great and can sing anything."
Some fans felt that Clarkson's voice was made for this song. Others praised the singer for her killer dress and belt combo. On most days, Clarkson wore a black dress that featured colorful flowers on it. She paired the look with a black wide belt and black ankle boots.
The Voice coach plays '90s music edition of "Would You Rather"
Earlier this month, The Kelly Clarkson Show shared a digital sneak peek of the host playing a '90s music version of "Who Would You Rather." She admitted that she would play beer pong with Cher over Madonna. So, it sounds like Clarkson is a huge Cher fan. And she certainly enjoyed singing Cher's rendition of "The Shoop Shoop Song (It's In His Kiss)" during her "Kellyoke" segment.
This comes after Clarkson performed with Jake Hoot on The Voice. Earlier this week, she brought the Season 17 champion back to the NBC singing competition. The two reunited on stage to perform their single "I Would've Loved You." The Kelly Clarkson Show airs on weekdays.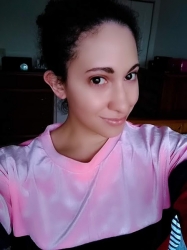 Latest posts by Chanel Adams
(see all)