Gwen Stefani made fans do a double-take with her bold new look. The No Doubt singer is known to switch it up. She's rocked many different hair colors over the years, ranging from pink to baby blue and everything in between. Rarely has she gone to the dark side.
Until recently. Gwen switched up her look for The Voice Season 20 finale. On Tuesday, May 25, she showed off her new hair color that had fans divided. While Gwen has had two-tone hair before, it was never quite like this. Instead of platinum blonde and black hair, she had dark brown hair with light blonde hair.
Gwen Stefani debuts new look on Instagram
On Tuesday, Gwen Stefani shared an Instagram carousel that included a selfie and two other clips that showed off her new look. In the first photo, she wore a black-and-white checkered blouse that featured rhinestones and mesh detail. Then, in the next clip, she paired the look with a red patent leather jacket and her signature red lip. Rapper Saweetie made an appearance in a similar blue jacket.
In the last clip, Gwen rocked a black mesh crop top that showed off her black bra and taut abs. She paired the look with high-cut fishnet stockings and a rhinestone checkered skirt.
"Performing on tonight's finale of [The Voice]," Gwen wrote. "Swipe to see with who!"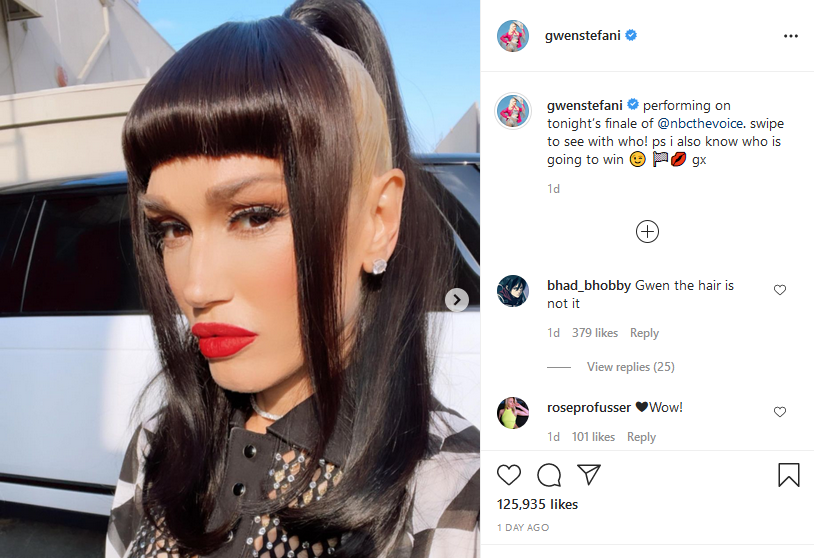 Fans flocked to the post to comment on Gwen's new look. While most of them raved about it, others didn't warm up to it. Some felt that it didn't suit her. However, there were some who want more brunette Gwen in their life. They wish that the pop star would dedicate rock this hair color 24/7.
Other fans felt that this new look harkened back to her pop-punk and ska era. They think it suited her perfectly. And then there were some who wished that she would bring back her "skunk hair" back. Needless to say, the comments section was mixed.
Fans dived over No Doubt's singers look
Most of her followers and friends commented with heart emojis. Beauty Youtuber Kandee Johnson said she loves the dark hair on Gwen Stefani. Heiress and reality star Paris Hilton commented with the heart-eye and crown emojis. Meanwhile, singer-songwriter Julia Michaels wrote: "You're so perfect."
Then came the negative comments. One fan wrote, "I've loved Gwen since long before I knew how to write, and forgive me, but this look is awful." Another added, "I'm a huge fan but not so much of this look. You look a little scary. 🤔😳" A third commented, "I'm sorry but your new haircut is terrible."
Some remarked that Gwen looks better as a blonde. They found this new hair color strange. There were some dramatic comments that read "YOUR HAIR IS AWFUL" and "YOUR HAIR. ARE YOU KIDDING ME?" Gwen followed up with two more Instagram posts, including one of her and Saweetie giving the peace sign to the camera.
While fans are mixed on this look, it may only be temporary. Gwen shared an Instagram Story in which she was back to her signature platinum blonde hair. The dark brown hair could be a wig or hair extensions for this particular performance. The Voice Season 20 finale aired on Tuesday, May 25 with a two-hour on NBC.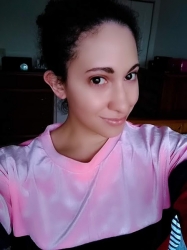 Latest posts by Chanel Adams
(see all)