Gwen Stefani is known for her signature platinum blonde hair. But she showed off a different side of herself. She debuted the shocking new look via Instagram. The "Let Me Reintroduce Myself" singer is the latest cover girl for Wonderland Magazine.
While Gwen is known to change up her look, she hasn't dyed her hair as of recent. In her No Doubt days, she would play around with blue hair or pink tips. But most of the time, she rocked her blonde locks. Whether it's curly or straight, she feels that blondes have more fun. Until she embraced her darker side in the latest photoshoot.
Gwen Stefani reveals dramatic new look on Instagram
On Monday, February 22, Gwen Stefani posted a photo of herself with a black bob that featured blunt bangs. She paired the look with a lavender gown that featured voluminous tulle. She attempted a pose as a stylist adjusted the backing of her gown.
"Feeling like this 💁🏻‍♀️ emoji with a better outfit gx," she captioned the post.
Gwen's post received over 113,000 likes. Gwen credited celebrity manicurist Carolyn Orellana and celebrity makeup artist Mary Phillips. Fans were in shock over the 51-year-old's new look. They think that Gwen should embrace this darker hairstyle.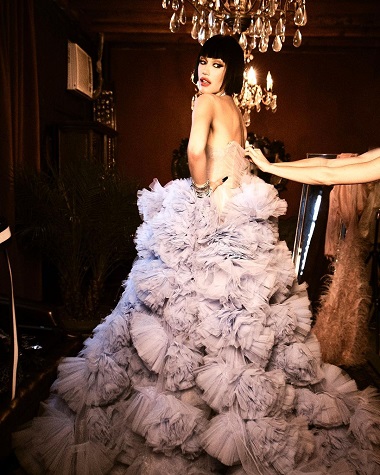 It appears to be just a wig for her Wonderland photo shoot. She also sat down for an exclusive interview with the magazine. Of course, Gwen talked about her wedding to fiance Blake Shelton. And she teased the details of her new music.
She also made her relationship even MORE Instagram official
Gwen Stefani took her relationship with Blake Shelton to the next level. Fans now refer to her as "Stefani-Shelton." The nickname stems from her new line of jewelry she's been rocking lately. They also noticed the chains she wore in her Wonderland shoot.
On the cover of the independent magazine, Gwen held up a gold chain that reads "Stefani." She also wore another that reads "Shelton." The singer also wore a black satin top that featured gold buckles. She paired the funky look with gold chunky jewelry and a high ponytail with black tips. That's as far as she'll go with this new darker look.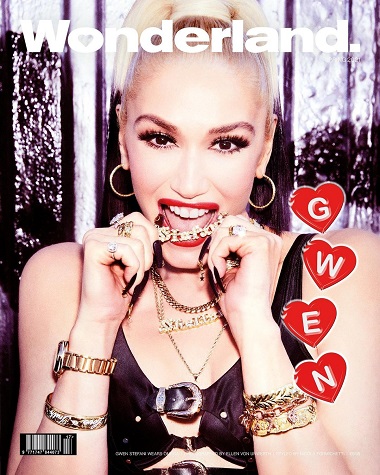 In the caption, Gwen included the hashtag: "#stefanishelton." This means that Gwen Stefani and Blake Shelton are Instagram official with their own hashtag. Talk about serious relationship goals. Gwen has built a brand around her name and their relationship.
Is new music on the way?
Fans are also freaking out about something else on Instagram. Gwen Stefani shared a casual selfie with OneRepublic singer Ryan Tedder. Fans think this post is an indication that new music is on the way. Gwen wrote in the caption: "had some real fun playing in the sandbox w this talented friend @ryantedder #thanku!!! gx."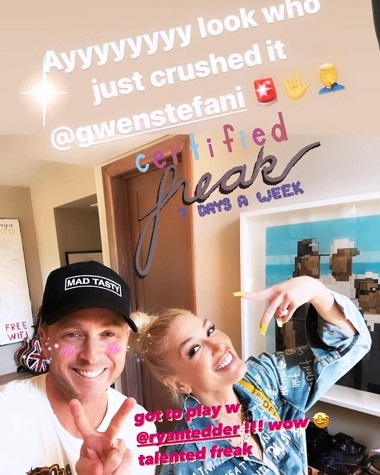 The last time Gwen and Ryan hung out together, they collaborated on The Countdown To Christmas, Here This Christmas. They also worked on the song "Baby Don't Lie." Fans know that there's always something up with these two artists. Hopefully, Gwen will be releasing the follow-up to her lead single soon.
What are your thoughts of Gwen with darker hair? Sound off below in the comments.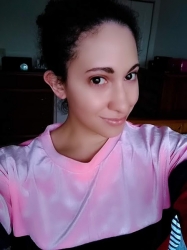 Latest posts by Chanel Adams
(see all)