On Tuesday, May 25, Kelly Clarkson performed a sultry version of "Need You Tonight" by INXS. She shocked fans with this classic song. The daytime talk show host performed this song in a black T-shirt and animal print skirt. She kept it sultry and fun as she showed off her raspy vocals.
Every day, fans look forward to Clarkson's covers. They feel that she can do no wrong when it comes to her "Kellyoke" covers. At this point, fans are running out of compliments to give her. Each cover keeps getting better and her latest segment proved that.
The story behind INXS's "Need You Tonight"
On Tuesday's broadcast of The Kelly Clarkson Show, the singer showed off her raspy tone and smooth vocals as she sang "Need You Tonight" by INXS. As of Wednesday, the video amassed over 23,000 views and counting. "Need You Tonight" was the first single released from INXS's 1987 album, Kick. It was also the fourth single on the album.
"Need You Tonight" is the only song from the Australian band to hit No. 1 on the Billboard Hot 100. While it was one of the last songs recorded for their album, it became their signature song. Andrew Farriss couldn't get that iconic riff out of his head when he was waiting for a cab to get to the airport to fly out to Hong Kong, according to INXS's autobiography, INXS: Story to Story.
He asked the cab driver to wait for him as he scurried around his motel room. Farriss returned to record the song in his motel room. "Need You Tonight" is more electronic than the band's other work. To get the riff down, the band used a synthesizer chord as well as rim shots that are heard throughout the song.
Even the accompanying music video had to be specific. Richard Lowenstein directed the video that combined live-action and animation shots. He created the special effects using 35mm film and individual frames. Then, he re-layered the frames over the original footage.
Kelly Clarkson gets sultry
Kelly Clarkson didn't stick to the original beat or riff that you hear at the beginning. Rather, the American Idol alum took a darker turn with this song. She knocked it out of the park by changing up the sound. However, she stuck to the sultry style of the band's original song.
"Kellyoke needs to become something, a record, a show something."
"Clarkson and Y'all made this their own and still stayed faithful to INXS' original version. Great job!"
"She's completely perfect for this song! There could be another one!"
"I swear Kelly's voice is like galaxy chocolate! It's so sexy and so good! I can listen to it all day! Imagine getting hear that live! Oh boy! ❤️🌻☺️🔥"
"Great choice! Could hear Kelly singing most of INXS songs and kill it!"
However, there was one fan who felt that Clarkson should've "stayed fully true to the melody" since it's the heart of the song. They would've loved to hear Clarkson perform the original version. Another fan suggested that she should perform Jesus Jones's "Right Here, Right Now."
What are your thoughts on Kelly Clarkson's INXS cover? Sound off below in the comments.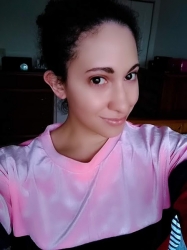 Latest posts by Chanel Adams
(see all)