Kelly Clarkson will replace Ellen DeGeneres's time slot after all. At first, it didn't seem like it. There were many daytime hosts who were in the running, including comedian Tiffany Haddish. Earlier this month, Ellen announced that she will end her daytime talk show in 2022.
Her decision came amid the ongoing allegations surrounding Ellen and her toxic work environment. Around the time, rumors swirled that Kelly could replace her. NBC Universal producers were in deep discussion over who would make the perfect replacement. Fans already knew that it was Kelly because of her personality, sense of humor, and "likeability" factor.
Kelly Clarkson to take over Ellen's time slot
In 2022, The Kelly Clarkson Show will end up in The Ellen Show's time slot. On Wednesday, May 26, NBC producers made the announcement that Kelly's talk show will replace Ellen's in the Fall 2022 lineup. TMZ was the first to report the news after claiming producers were hesitant about replacing Ellen with Kelly. They weren't sure whether she could pull in an audience even though her ratings went up for the past few months.
Kelly was initially named as the front runner for Ellen's coveted time slot. Ellen had that time ever since her talk show debuted in fall 2019. Her show debuted with huge ratings. At the height of the discussions surrounding the workplace environment, NBC execs had a feeling that Ellen would end her show. At the time, Kelly seemed like the perfect replacement.
The Kelly Clarkson Show became an Emmy-award-winning talk show. Kelly won over America with her personality and ability to talk to her guest. However, Kelly's ratings dipped over the coronavirus pandemic, as did a lot of other daytime talk shows. There were concerns over whether NBC would choose her or choose someone new like Tiffany Haddish.
The network is doing away with their doubts. They ultimately chose Kelly in the end. NBC is confident that Kelly's ratings will increase as the coronavirus pandemic slowly comes to an end. The Kelly Clarkson Show was renewed for two more years.
The new queen of daytime TV?
On Wednesday, the network made the announcement. Kelly Clarkson will take over for Ellen's time slot next fall. This comes weeks after Ellen announced the end of her talk show.
"'The Kelly Clarkson Show' has earned its dominance in daytime by hitting every benchmark for success since it premiered as the most-watched talk show in seven years," the network said in a press release, per Fox News. "The hourlong program, hosted by Grammy Award-winning artist and America's original Idol, Kelly Clarkson, features a mix of celebrity guests and everyday people doing extraordinary things in their communities. It airs in 100% of the country across 200 stations and is positioned to headline daytime in leading time periods by Fall 2022."
The network assured that Season 19 will be "a blockbuster year" for Ellen. They are also looking forward to seeing how The Kelly Clarkson Show will play out in that time slot. Earlier this month, Ellen confirmed that she will not reprise her talk show into 2024 as previously assumed. Instead, she's ending it in 2022.
What are your thoughts? Do you think Kelly Clarkson will become the new queen of daytime? Sound off below in the comments.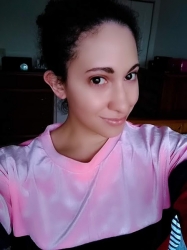 Latest posts by Chanel Adams
(see all)