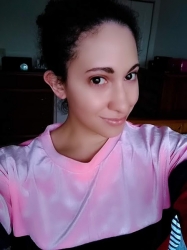 Latest posts by Chanel Adams
(see all)
Gwen Stefani grace the June 2021 cover of Paper Magazine. The No Doubt singer shared the photos from the accompanying photoshoot on Instagram. She shocked fans with her new look that revealed dark brown hair with blonde underneath. However, it's her interview that has everyone talking.
Gwen addressed some hard questions about her Harajuku Lovers era. She also opened up about the story of "Just a Girl," and addressed whether she's a feminist. There are questions surrounding Gwen's beliefs, especially since her long-term relationship with country singer Blake Shelton. Gwen assures people she is who she says she is.
No Doubt singer talks "Just a Girl"
In the interview, Gwen Stefani said she's rebranding as herself. She's currently working on her fourth studio album. In December 2020, Gwen let everyone know who she is on the debut single "Let Me Reintroduce Myself." She gave a shoutout to her past self as she revisited the wardrobe from her "Hollaback Girl" and Tragic Kingdom music eras.
One of her biggest songs is "Just a Girl." It's become a part of Gwen's brand. Fans recall when she was part of the punk-ska movement and was one of the few females at the forefront. Gwen made waves in a music genre that was dominated by men and still is to this day. Some consider "Just a Girl" a feminist anthem because of its electrifying lyrics.
According to Gwen, she wasn't making a feminist statement. She was just feeling her feels when she wrote the song. It's a deeply personal song that got her through a tough time.
Well, have you? @gwenstefani https://t.co/iuqjF9AIpi

— Paper Magazine (@papermagazine) May 26, 2021
"It wasn't meant as a protest or anthem: in fact, being her breakout hit, she didn't think anyone other than her bandmates and some local fans would ever hear it," Gwen said in Paper Magazine. "I don't even know if I knew what feminist at the time was. I was very sheltered growing up with my family. I wasn't political. I wasn't angry."
Gwen has no need to "go on Instagram and say 'girl power.'" She would rather live her life as a "good person" and "leave a trail of greatness behind me." The intent of that song was to tell people to stop bullying her. It's how Gwen has lived her life ever since then.
Gwen Stefani addresses cultural appropriation claims
Gwen Stefani received backlash for having a group of Japanese-American women who called her "Harajuku Girls." Fans also accused her of cultural appropriation of the hip-hop culture and for wearing bindis. However, she has no regrets. She defended herself in the interview.
"If we didn't buy and sell and trade our cultures in, we wouldn't have so much beauty, you know?" she said. "We learn from each other, we share from each other, we grow from each other. All these rules are just dividing us more and more."
thx for having me @papermagazine ❤️ gx pic.twitter.com/rUK8yDTPic

— Gwen Stefani (@gwenstefani) May 26, 2021
Gwen doesn't like having rules. She would rather be free to do whatever she wants. The singer wishes for the day when social media wasn't a thing and "we just had so much more freedom." What are your thoughts on Gwen's Paper Magazine interview? Sound off below in the comments.