Gwen Stefani had an interview with Paper Magazine. She's the cover girl for the June 2021 issue. As Country Music Alley previously reported, the singer answered some tough questions. The No Doubt frontwoman is aware that some people assume she's a Republican because of her longstanding relationship with Blake Shelton.
Their union came as a shock to fans of both. Gwen is a punk-ska singer while Blake is a country boy. The two met on the set of The Voice in 2014. A year later, both of them went through respective divorces. Gwen was in the midst of her split from Brush frontman Gavin Rossdale while Blake went through his divorce with Miranda Lambert.
Since then, the pair made headlines for their relationship. See what Gwen has to say about the claims she's a secret Republican.
Gwen Stefani makes it clear who she is
Gwen Stefani and Blake Shelton's relationship is a case of opposites attracts. She makes it clear where she stands in her interview with Paper Magazine. Gwen addresses the punk-rock and ska-rock movements, both of which support everyone from all walks of life. Still, that hasn't stopped some from wondering about Gwen's own political beliefs, especially with Blake's controversial tweets and conservative leanings.
On Wednesday, May 26, Gwen's full interview with Paper Magazine came out. She beat around the bush when she was asked whether "she's a Republican now" because of her relationship with the "Minimum Wage" singer. Just because they're together, doesn't mean she supports those beliefs. Gwen defended herself without answering the question directly.
🦋🌸 @papermagazine gx pic.twitter.com/bJMfZyI0Ts

— Gwen Stefani (@gwenstefani) May 26, 2021
thx for having me @papermagazine ❤️ gx pic.twitter.com/rUK8yDTPic

— Gwen Stefani (@gwenstefani) May 26, 2021
"I can see how people would be curious, but I think it's pretty obvious who I am," Gwen said. "I've been around forever. I started my band because we were really influenced by ska, which was a movement that happened in the late '70s, and it was really all bout people coming together."
Gwen even noted that she wrote "Different People," which she mentioned is on the Obama playlist. It was the first song she wrote that was politically charged. The "Slow Clap" singer says she makes her beliefs clear in her music. She would hope that her own fans know where she stands.
Describes early work with No Doubt
Gwen Stefani continued to note her early work with No Doubt. The band was heavily influenced by ska groups such as The Selecter and The Specials because "what they were doing in the late '70s was this whole kind of anti-racism, we come together, Black and white ska movement." However, Gwen fails to acknowledge her political beliefs. She feels that the "whole point of voting" is having "this personal space to feel how you feel."
"I use my platform to share my life story and to engage with people and to exchange whatever gift I was giving," she continued. "I'm not a political science major. I am not that person. Everyone knows that. So why would I even talk about it?"
Gwen has always supported Democratic politicians. In 2012, she hosted a fundraiser alongside Michelle Obama. In 2016, Gwen and Blake performed at former President Barack Obama's final state dinner. Since then, she has fallen silent on her political beliefs.
Meanwhile, Blake had people questioning his political leanings with his controversial tweets and defense of Trump during the 2016 presidential election. A year later, a photo of the couple with former House Speaker Paul Ryan. That photo led to speculation over their political beliefs. Regardless, Gwen knows who she is on the inside.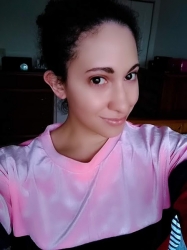 Latest posts by Chanel Adams
(see all)