Kelly Clarkson is on top of the world lately. The daytime talk show host received six Emmy-Award nominations. On Tuesday, May 25, Clarkson posted a video via Twitter. She thanked fans and her crew on behalf of The Kelly Clarkson Show. They received six nods from the daytime Emmys.
Her eponymous talk show is already an Emmy-award-winning program. Fans love the show for its heart and humor. Of course, the "Kellyoke" performances have helped. It's given the show a boost in ratings since fans check in to see what Clarkson will perform every day.
The Voice coach shares mindblowing news
Kelly Clarkson took to social media to share a heartfelt message. In the video, she said that she's "incredibly mind-blown" by these six nominations. Things just keep getting better for the American Idol alum as her daytime show keeps getting more
"Thank you so much, I'm incredibly mind-blown, I'm so excited for our staff and crew, our band," Clarkson said. "Everybody that is working on our show, and working so hard. To be recognized by the Academy for it, thank you for all of the Emmy nominations. We were freaking out the first time around and now I can't believe that it's still happening. It's awesome to do what you love and be a part of something you really believe in and people recognizing it. So, thank you so much, our band and crew and our whole staff, everybody is so appreciative."
Thank you from the bottom of my heart. pic.twitter.com/VU7GmoGnbG

— Kelly Clarkson (@kellyclarkson) May 26, 2021
The Voice coach also praised the network that's the home to her daytime talk show, NBC. The producers have placed a lot of hope in the star. They had a feeling that Clarkson was going to become the new queen of daytime TV. In her lengthy message, the singer said that "life is amazing right now." Not just for her, but for everyone involved.
Kelly Clarkson will take over Ellen's time slot
The Kelly Clarkson Show received six nominations for Art Direction, Lighting Direction, Original Song, Outstanding Entertainment Talk Show, Sounding Mixing, and the show's host. Previously, NBC announced that Clarkson will take over The Ellen Show's time slot on daytime television in 2022. NBCUniversal President Valari Staab shared the news earlier this week.
"The Kelly Clarkson Show will be the star of our daytime entertainment schedules and an asset to our early afternoon newscasts," Staab shared.
"The Kelly Clarkson Show is one of the most optimistic success stories in the first-run syndication," Tracie Wilson, executive VP, NBCUniversal Syndication Studios chimed in.
She credited Clarkson and her production team for putting all of their hard work and passion into making the show. What are your thoughts on the six nominations? Do you watch The Kelly Clarkson Show? Sound off below in the comments.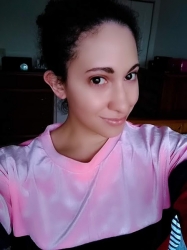 Latest posts by Chanel Adams
(see all)