On Tuesday, June 1, Kelly Clarkson kicked off her daytime talk show with a Prince cover. Her version of his iconic song "Kiss" has fans swooning. She slowed it down for her "Kellyoke" segment. While she stuck to the original funky sound of the classic, Kelly also showed off her sultry vocals and sang a slow version of it.
During her performance, Kelly wore a black sweater and a brown multi-colored skirt. She accessorized her look with her trademark boots and gold hoop earrings. This Prince cover certainly got her fans' seal of approval. The singer continues to burn up social media with her epic covers.
Delicious Prince cover
Prince wrote, composed, and produced "Kiss." It was the lead single from Prince and The Revolution's eighth studio album, Parade. "Kiss" became an immediate No. 1 hit across the globe. It rose to the top of the U.S. Billboard  Hot 100 chart for two straight weeks. In 1986, "Kiss" ended up certified Gold with sales of one million copies by the RIAA.
The song was originally an acoustic demo. Prince wrote the chorus and added a verse. He sent the demo to Mazarati, who asked him for the song for their debut album. All of them worked on it with producer David Z. Prince decided to finish recording the song and keep it to himself.
He wanted to keep David Z's funky sound and background vocal arrangement, as well as Mazarati's background vocals. Warner Bros. wouldn't accept the song at first. Thanks to Prince's relentless, they released the song and included it on Parade. "Kiss" became one of Prince's signature songs and was requested at his concerts.
Unfortunately, the release came with controversy. David Z recalls that he and his band didn't get a songwriting credit. Also, Mazarati never received proper credit for working on the song and never received any royalties from it. After Prince's death in April 2016, the song skyrocketed to the Billboard Hot 100 at No. 28 before jumping to No. 23.
Kelly Clarkson sings a sultry version
On Tuesday, Kelly Clarkson put her own twist on this classic. She slowed down the lyrics as she sang along to the funky beat. Of course, this isn't the first time that Kelly has covered the song. Back in 2017, she covered Prince's "Kiss" for Spotify Singles at Spotify Studios in New York City.
Regardless, fans love hearing Kelly's version. Her "Kellyoke" segment amassed over 16,000 views. Fans fell in love with this version. They feel that it's the sexiest version they've heard aside from the original.
"the sassiest and sexiest version I've heard and the way she says, "kiss" at the end. oh, my gosh. I'm gay for this woman!" one wrote.
"I'll continue to post these words for her because she deserves them: World class 🙌🏼," another added.
Last week, NBC announced that Kelly's talk show will replace Ellen DeGeneres' daytime talk show in the fall 2022 time slot. What are your thoughts on the latest "Kellyoke" cover? Sound off below in the comments.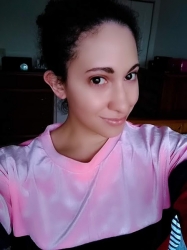 Latest posts by Chanel Adams
(see all)