On Friday, June 18, Blake Shelton celebrated his 45th birthday. He got some special gifts for his big day. His fiance Gwen Stefani threw him a surprise birthday party with friends and family. This comes amid the rumors that the couple is already married.
Gwen had her bridal shower. So, fans assumed that they already said "I do," especially since the No Doubt singer wore a ring on that finger. Gwen loves wearing jewelry and is always seen jewelry shopping, so it could be anything. In lieu of the rumors, she threw Blake a birthday celebration with the people closest to them.
Gwen Stefani celebrates fiance's birthday
Gwen Stefani took to Instagram to share many clips and photos from the big event. Since Blake Shelton turned the big 4-5, she wanted to make it special. The first clip showed one of Gwen's sons holding graduation balloons as he walked into the backyard. He tried to trick Blake into thinking that he was attending a graduation party.
Then Gwen and Blake followed a group of people who shouted from the backyard, "Surprise!" Her fiance moved out of the way, assuming that they were talking to someone else. "It's your birthday," Gwen told Blake while she guided him through the doors and onto the deck of people who greeted them.
She followed up with another clip of the country singer wearing a crown on his head. Blake was also decked out in beads as he blew a horn as everyone sang, "Happy Birthday."
Gwen making sure Blake has a special birthday! pic.twitter.com/YTVAaB2atI

— Team Shelton (@shelton_team) June 18, 2021
"Sorry Blake, I didn't do it," Gwen told her man. Someone else dressed up as Super Man sang "Happy Birthday" to The Voice coach. Gwen also showed off the decorations and birthday cake with Blake's face on it.
"celebrating my besties b day today love u @blakeshelton," Gwen captioned the post, including the hashtag "#favoritecountrysinger."
— Team Shelton (@shelton_team) June 18, 2021
Other videos from Gwen's social media also show the backyard party. There are large silver balloons that read "Happy Bday Blake." Gwen wore her alleged wedding ring just a few days after the marriage rumors swirled.
— Team Shelton (@shelton_team) June 18, 2021
Blake Shelton got another birthday surprise
On Friday, Blake Shelton took to his Instagram to share his birthday gift. He shared a selfie of himself drinking his Smithworks Hard Seltzer Lemonade. The "Minimum Wage" singer wore a black shirt that featured yellow bananas and gray and white leaves on it. He paired his look with a blue and white trucker hat.
Greatest birthday present ever! @SmithworksVodka pic.twitter.com/LdWntlY41h

— Blake Shelton (@blakeshelton) June 19, 2021
Then Blake followed up with a clip to thank the alcohol brand for the gift. In the background sat a cooler filled with Smithworks Hard Seltzer Lemonade. In the caption, he wrote: "Thank you @smithworksvodka!!!!!! This is unreal! Greatest birthday present ever!" He received over 104,000 likes for his post. Most of them took to the post to wish Blake a happy birthday. Others could notice Gwen in the reflection of his photo as she shot the photo.
Thank you @SmithworksVodka!!!!!! This is unreal! pic.twitter.com/8MSLvISuol

— Blake Shelton (@blakeshelton) June 19, 2021
Check back with Country Music Alley for more news on Blake Shelton.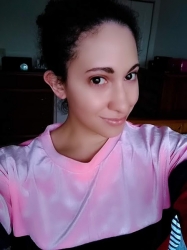 Latest posts by Chanel Adams
(see all)