Gwen Stefani shared a look at Blake Shelton that fans never get to see. She didn't waste time when it came to sharing her love for him on Father's Day. While Blake doesn't have children with Gwen, she appreciates how much he cares for her three boys. During the COVID-19 pandemic, the couple quarantined together on Blake's Oklahoma ranch.
It's the very same place where the "Minimum Wage" singer popped the question. The two are planning their summer nuptials. However, there are whispers that Gwen and Blake already got married. On Sunday, June 20, the No Doubt singer took to Instagram to share many family photos.
A rare glimpse at Blake Shelton
Gwen Stefani posted a carousel of photos of Blake Shelton with each of their three sons, Kingston, 15, Zuma, 12, and Apollo, 7. Gwen shares the boys with her former husband, Gavin Rossdale. Each of them got to grow up with Blake by their side. Gwen also makes an appearance in the rare and heartwarming photos, praising her fiance for being like a father to her sons.
"happy father's day to the most generous patient loving funny guy i know," she wrote in the caption. "we luv u so much @blakeshelton gx."
Fans fell in love with the photos. Many of them took to the Instagram post to flood the comments section with Father's Day wishes. "Happy Father's Day Blake!" one fan wrote. "So happy you found Gwen and the boys! You deserve all this love 😍." "This is so precious 😍💞," another fan added.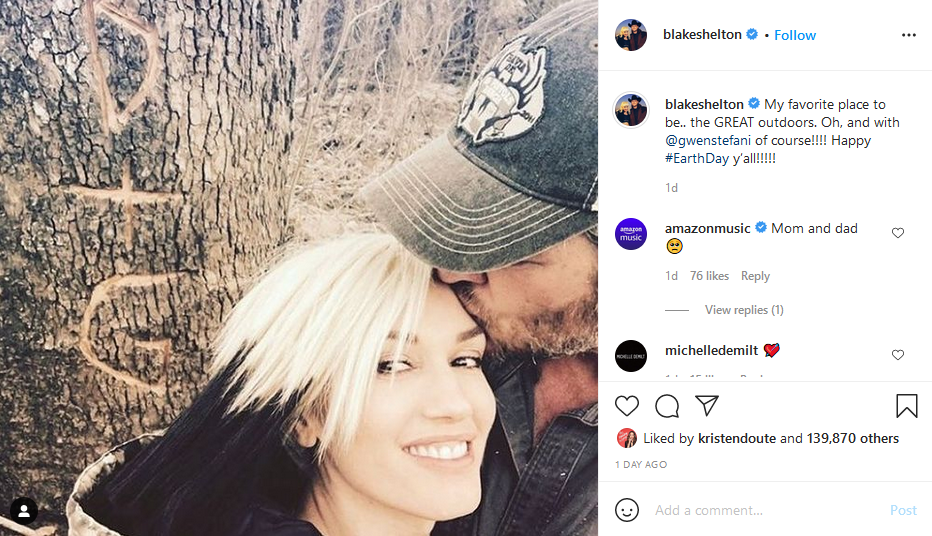 Luke Bryan's wife, Caroline "Lina" Boyer Bryan, entered the comments section. She simply added a series of "❤️❤️❤️❤️." While a wedding has not been confirmed by the couple, Gwen had a surprise bridal shower earlier this month. Fans have a feeling that their wedding is already underway.
Gwen Stefani left this person out
On Father's Day, Gwen Stefani also posted a tribute to her own dad, Dennis James Stefani. Interestingly enough, she didn't share any love with her previous partner and the father of her biological children — Gavin Rossdale himself. Maybe she only let her boys leave a tribute to their father on or off social media. This comes after Gwen showed Blake plenty of love on his 45th birthday.
Gwen and Blake met while working on the set of The Voice in 2014. The couple became engaged in late October 2020. There's been speculation that the couple already got hitched in private. However, Gwen says that they've waited so long to get married that they can't wait to get married this summer.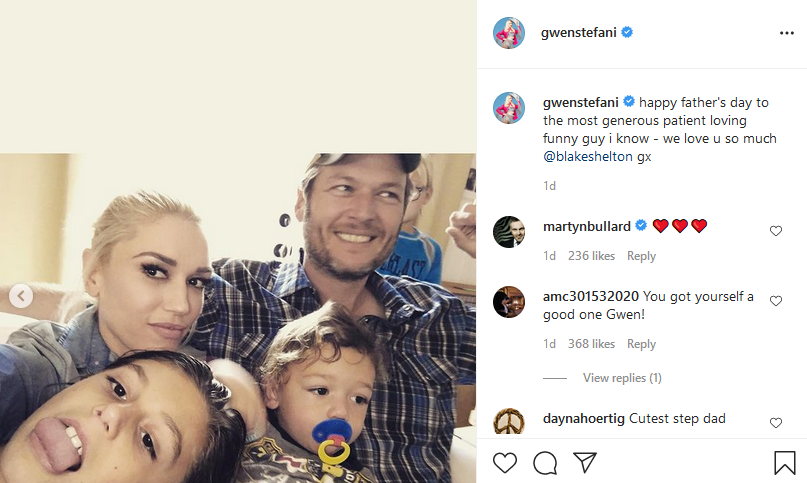 "They are both ecstatic that it can finally happen," an insider told People. "They are getting married this summer. Gwen's boys will be very involved. Blake is a great extra dad and very close with the boys."
Check back with Country Music Alley for more news on Gwen Stefani and Blake Shelton.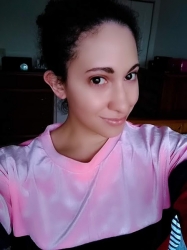 Latest posts by Chanel Adams
(see all)