Kelly Clarkson is throwing it back once again. On the latest episode of her hit daytime talk show, the host talked about the time she appeared on this popular '90s sitcom. Everyone and their moms watched ABC back on Friday nights. The Friday night block, aptly titled "TGIF," had its share of the hottest sitcoms like Full House and Family Matters.
Every few years, the lineup would change, but the shows would still have the same heart and humor. Every millennial remembers TGIF fondly and enjoys watching these sitcoms on Hulu. On Wednesday, June 23, Kelly opened up about her rare appearance in a '90s sitcom that was of its time. Can you guess which one she's talking about?
Her cameo on Sabrina The Teenage Witch
In the latest episode, Kelly Clarkson spoke to actresses Caroline Rhea and Ruth Righi about the time when she appeared on Sabrina The Teenage Witch starring Melissa Joan Hart. When she shared a clip, she joked that she was the "lead as well." Kelly played a background character at Sabrina's high school. "I was a very big character. I was a lead as well… In my mind," she added.
This was just an extremely rare cameo in the television show. Many celebrities have made an appearance on the beloved classic, such as RuPaul, Cher, and Britney Spears. However, not all fans may know that Kelly was a character on there as well. While she didn't have any lines, she did make an impact. According to the Instagram clip, it looks like she had to make a stink face at Sabrina, who was up to her usual witchcraft.
The Kelly Clarkson Show posted the hilarious clip on its official Instagram account. "Extremely RARE throwback to Kelly's came on 'Sabrina The Teenage Witch'!" the caption read along with the laughing emoji. In the post, fans shared their thoughts on whether they remembered seeing Kelly on the show. Some agree that it was one of the greatest cameos of all time. Here are just some of the comments:
"Deserved an Emmy."
"Greatest cameo of all time."
"Sabrina had Britney Spears and Kelly Clarkson. Iconic. Magical. We didn't deserve it."
"No way! Lol! Never knew! Fun fact!"
Alexander Goldschmidt wrote, "Robbed of an Emmy for that guest appearance TBH." Kelly did make quite the expression in that clip. Some would say that her acting is very convincing. Fans are now looking back at that episode just to see a glimpse of Kelly.
Kelly Clarkson also appeared on Reba
One fan reminded everyone that Kelly Clarkson also made an appearance on another sitcom, Reba, in the 2000s. "She was in an episode of Reba too!" the fan wrote to which another responded, "She was hysterical in that!" Country Music Alley previously chronicled that time when Kelly made a guest-starring role on the hilarious sitcom. In 2007, she played the role of Kelly, an intern for Barbara Jean (Melissa Peterman).
Kelly considered Barbara Jean as her idol. Reba (Reba McEntire) took a liking to Kelly and didn't understand why B.J. didn't like her. Barbara Jean asked Reba to spy on her intern because she didn't trust her and thought she was stealing her job. Of course, that was not true as Kelly was just a fangirl and a really nice person. Reba understood how Barbara Jean felt about Kelly is how she feels about Barbara Jean.
What are your thoughts on Kelly's cameo in Sabrina the Teenage Witch? Did you know this as well? Sound off below in the comments.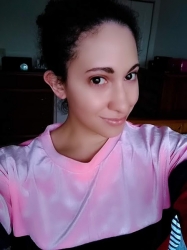 Latest posts by Chanel Adams
(see all)