Netflix's latest streaming hit has a soundtrack full of songs with one resounding theme: the road. The Ice Road is a thriller starring Liam Neeson. He plays an ice road trucker tasked with a dangerous rescue mission. Carly Pearce covers one of the most recognizable songs from Kathy Mattea. 
The Ice Road's Heavy-Hitting Soundtrack
Any action-adventure starring Liam Neeson is bound to be a hit. His Netflix Original The Ice Road is already #2 in the U.S. The movie is not yet available in other countries. The #1 streaming show is NBC's Manifest. The network just canceled the show, but fans are flocking to Netflix to watch the first two seasons. Many 'Manifesters' are calling for the streaming giant to save Manifest. 
The Ice Road soundtrack recruits several big names in country music. Miranda Lambert, Tim McGraw, and Brantley Gilbert are just a few of the other artists on the soundtrack, per CMT.
Rockers Nikki Sixx from Motley Crue and Rob Zombie also contribute to the soundtrack with a cover of Hank Snow's "I've Been Everywhere."
Carly Pearce takes on Kathy Mattea's mega-hit 18 Wheels and a Dozen Roses. 
Kathy Mattea Reacts to Carly Pearce Covering 18 Wheels and a Dozen Roses
18 Wheels and a Dozen Roses tells the story of a long-haul trucker finally coming off the road for the last time. It reached #1 on the country charts in 1988. 
What did Kathy Mattea think of the cover? She absolutely loved it, even if she spelled Pearce's name wrong. Mattea took to her Facebook page to let her fans know about the cover. She wrote that it's "crazy" to have a song from so early in her career covered by another "young country music star."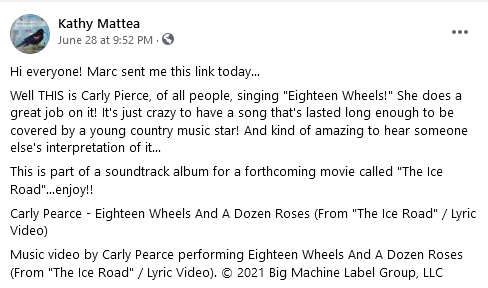 Kathy Mattea also found it "kind of amazing" to hear another interpretation of the song. Her fans responded approvingly in the comments. However, many of them agree that Kathy Mattea's original version is the better of the two. Give Carly Pearce's cover a listen and share your thoughts in the comments down below. 
Carly Pearce also promoted the soundtrack on her Twitter account. 
Carly Pearce's Star is on the Rise 
So excited for y'all to be able to hear "Eighteen Wheels and A Dozen Roses" from #TheIceRoad soundtrack! Listen to it now wherever you get your music and watch the movie exclusively on @Netflix! https://t.co/IYU0kw5KJP pic.twitter.com/ZhOP1RZdmn

— Carly Pearce (@carlypearce) June 25, 2021
From covering award-winning singer Kathy Mattea to having an icon invite you to be a member of the Grand Ole Opry. Two huge events in Carly Pearce's year. 
Dolly Parton recently surprised Carly Pearce during an interview. Or least, what she thought was an interview. It was really just a set-up for Dolly Parton to invite Carly Pearce to join the Grand Ole Opry. 
 

 

View this post on Instagram

 
And 2021 is only halfway over. Just imagine what the rest of the year could hold for the rising country star!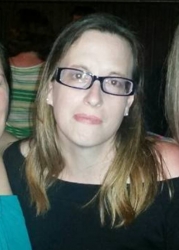 Latest posts by Jennifer Havener
(see all)