Blake Shelton celebrated big news with fans. That news had to do with The Voice. The NBC singing competition is still one of the top shows on Monday and Tuesday nights. Blake started out on the show in 2011. It brought him a lot of luck.
Not only did it introduce him to a new group of fans, but it also introduced him to his future wife, Gwen Stefani. During the 20th anniversary of the show, Blake recalled one of his best moments. He couldn't forget the day he met the No Doubt singer. Ever since the two dated in 2015, they've been inseperable.
Now, Blake is celebrating the show's latest milestone.
Blake Shelton congrats The Voice family
On Wednesday, July 14, Blake Shelton took to Twitter to congratulate NBC and The Voice. Just a day before, the reality series earned an Emmy nomination for Outstanding Competition Program. Earlier this week, the Emmy nominations came out and have everyone talking. But this is one announcement that fans can agree with.
"It's time to celebrate because #TheVoice has an #Emmy Nomination for Outstanding Competition Program!" The Voice tweeted.
Blake shared the tweet along with the message, "Congrats fam!! @NBCTheVoice." The singing competition received seven nominations. The one Blake celebrated was for Outstanding Competition Program. The show is up against other popular reality shows: The Amazing Race, Nailed It, Ru Paul's Drag Race, and Top Chef. The Voice also received nominations for casting, direction, hairstyling, editing, lighting, and technical direction.
Congrats fam!! @NBCTheVoice https://t.co/vEX6T6XoeQ

— Blake Shelton (@blakeshelton) July 14, 2021
He's already enjoying the month of July. While he's not celebrating his honeymoon with Gwen Stefani, he's still in wedded bliss. Earlier this month, the couple finally said "I do" at his ranch in Tishomingo, Oklahoma. They exchanged vows in front of 40 of their closest friends and family members. Gwen and Blake made sure her sons were a big part of their special day.
Fans think he's the reason for the Emmy nods
Fans took to his tweet to offer congrats. One fan wrote, "It's only because they have Blake. I'd give him an Emmy by himself," while another added, "Congrats Blake! You make the show good and great!" Most of them couldn't help but praise Blake for his coaching skills and personality. Here are some more comments:
"Blake has such an amicable personality! He makes the show really fun to watch as well as so entertaining!"
"I cannot imagine the show without Blake. He is the life of The Voice, no exaggeration."
"Congratulations to YOU MADE THIS SHOW FUNNY AND GWEN MADE IT FUN."
"Yes, you are the original coach the best coach the most fun-loving coach all-time favorite, and will continue to watch only if you're their coach congrats love you."
"Congratulations to you Blake. I watch the show because of you."
Blake and his fellow coaches previously won four Emmys for Outstanding Reality Program. They won an Emmy for each season in 2013, 2015, 2016, and 2017. Do you agree that Blake makes the show? Sound off below in the comments.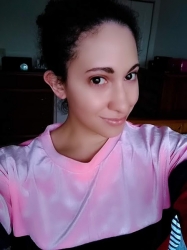 Latest posts by Chanel Adams
(see all)