Is Miranda Lambert this generation's Dolly Parton? That's how country artist Parker McCollum feels. He had some high praise for the singer. He recently collaborated with Lambert for his debut album, Gold Chain Cowboy.
McCollum worked with her on the track "Falling Apart," which Jon Randall and Randy Rogers co-wrote. As fans know, Randall is one of Lambert's longtime collaborators. She worked with him and Jack Ingall on her new album, The Marfa Tapes. Like Lambert, McCollum comes from Texas, which could be the reason why he has so much respect for her.
Parker McCollum praises "Little Red Wagon" singer
In a recent interview with Taste of Country, Parker compared Miranda Lambert to legendary country superstar Dolly Parton. McCollum and Lambert have worked together for some time now. He opened for her during her 2020 Wildcard Tour, just months before the COVID-19 pandemic shut down concerts and live shows around the world. The two interacted during the show, and McCollum is an even bigger fan of hers.
"I call her the Dolly Parton of my generation," McCollum told Taste of Country. "I think she's a phenomenal talent. And then getting to know her, she's such a normal, regular person when you get around her. You'd never know she's a superstar."
McCollum has been dying to write alongside Lambert. It finally happened as he worked on his first full-length album. McCollum had an idea for Lambert, which led to the making of the track "Falling Apart." Once he shared the idea with Lambert, she was on board with it.
He also worked on this project with Brian Kelley of Florida Georgia Line and Rhett Atkins. Kelley worked with McCollum on the closing track, "Never Loved You At All," while Atkins is credited on the track "To Be Loved By You." McCollum said that Kelley is "a super sweet guy" and that Atkins is a "great guy" that he's written with before.
Miranda Lambert worked with Dolly Parton
On January 19, 2021, Dolly Parton celebrated her 75th birthday. Miranda Lambert was one of the many fellow country artists who wished the "Jolene" singer a happy birthday. Lambert took to Instagram to post a photo of the two together along with a special message.
"Happy Birthday Dolly! Thank you for your bright light," she wrote in the caption. "Singing with you and having some heart-to-heart conversations was a highlight of my life."
In 2018, the two recorded Parton's song "Dumb Blonde" for the soundtrack to the Netflix movie Dumplins'. Parton wrote most of the songs on the soundtrack and re-recorded new versions of her hit songs. After the two worked on the song, Parton revealed they were "like soul sisters" on Facebook. The two have been compared over the years, even by Lambert herself.
What do you think? Do you agree that Miranda Lambert is this generation's Dolly Parton? Sound off below in the comments.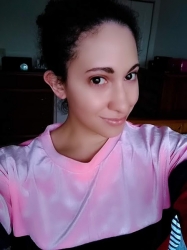 Latest posts by Chanel Adams
(see all)