Don't call her Gwen Stefani! As Country Music Alley previously reported, Blake Shelton and his wife made a surprise appearance at Ole Red in Tishomingo, Oklahoma. It's the very same place where they got married at his ranch. The couple got married on Saturday, July 3 in front of their close friends and family members.
It was so small that Gwen and Blake wanted to focus on just their family. The No Doubt singer made a conscious effort to include her three sons. Over the weekend, the duo performed for the first time as husband and wife. She corrected a fan who screamed her name.
Mrs. Blake Shelton?!
Apparently, Gwen Stefani plans to change her name to Gwen Shelton. On Thursday, July 15, the "Slow Clap" singer and the "Minimum Wage" singer performed a medley of their hit songs for the adoring fans. Some of them couldn't help themselves and screamed out Gwen's name. Even Blake Shelton introduced her as Gwen Stefani. However, Gwen hinted that she might want to change her name now that she's married.
"I thought it was Gwen Shelton now," she looked over at Blake and smiled.
The entire crowd roared. Then some of them started to call her by her new name – Gwen Shelton. Gwen smiled and looked over at the crowd. Blake started strumming on his guitar. He wore a black button-down shirt and blue jeans.
"It's Gwen Shelton now" https://t.co/IptmptL43a

— iHeartRadio (@iHeartRadio) July 20, 2021
This was also a cute moment, Blake was gushing about Gwen Stefani being in tishomingo and she said, "I thought it was Gwen Shelton now". They were both so cute! 🥰❤️ pic.twitter.com/Cl5QDUCfQ1

— Paisley (@LoveFaithTruth1) July 16, 2021
Meanwhile, Gwen wore her signature white tank top and blue jeans with her dozens of gold necklaces and bracelets. She also had on diamond earrings and her wedding ring. The duo discussed what they planned to sing next. Gwen asked Blake over the roaring crowd if they were going to perform one of their duets again.
This is the first time that Gwen and Blake performed as husband and wife. They looked happy and in love as they have for the past six years. The two met on the set of The Voice in 2014. A year later, both Blake and Gwen went through very public divorces. They started out as friends and decided to take things further.
Gwen Stefani reflects on married life
The "Don't Speak" singer talked about her new life as Mrs. Blake Shelton. On the latest episode of the Tell Me About It podcast, Gwen Stefani said their wedding was "literally one of the greatest moments of my life." She shared the details with Jade Iovine on Tuesday, July 20. Gwen shared how she's been doing since they tied the knot, per E! Online.
"Total honeymoon vibes right now," Gwen said. "It [the wedding] was literally one of the greatest moments of my life, obviously. It was beyond what I thought it was gonna be."
👰🏼‍♀️💍🥰 gx pic.twitter.com/mQkMCVjvX2

— Gwen Stefani (@gwenstefani) June 11, 2021
Gwen is figuring out her future now that she's found the one. She hopes she can figure out the rest of her life. The "Let Me Reintroduce Myself" singer couldn't stop gushing about her famous husband. She called Blake "very real consistent and genuine."
What are your thoughts on Gwen Stefani and Blake Shelton? What are your thoughts on the singer changing her last name? Sound off below in the comments. Check back with Country Music Alley for more news on Gwen Stefani.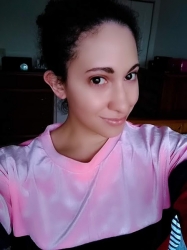 Latest posts by Chanel Adams
(see all)