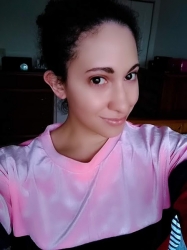 Latest posts by Chanel Adams
(see all)
Gwen Stefani is still feeling the love. She helped celebrate another new marriage. Earlier this month, Gwen and Blake finally got married on his ranch in Oklahoma. It was a long time coming for the love birds. Gwen wanted to make sure to include her three sons on their special day.
She honored them with little elements on her two custom-made wedding dresses. They also read a verse from the Bible to honor their famous mother and step-father. Gwen and Blake skipped the traditional honeymoon and had a surprise performance instead. The singer recently took to social media to celebrate another wedding.
Gwen Stefani congratulates Stephen Bradley
On Friday, July 23, Gwen Stefani took to her Instagram Stories to celebrate another happy marriage. She shared a photo from Stephen Bradley's wedding. The musician posed alongside his blushing bride, who wore a low-cut, lace wedding gown. Meanwhile, Stephen kept it dapper in a gray suit, a pale blue button-down shirt, and a navy blue tie. He adorned his look with a pink boutonniere and handkerchief.
"so happy for u @sbradleymusic," Gwen wrote in the caption.
Stephen tied the knot with Kristin Winter. Kristin was the first to post photos via her Instagram Stories. Her original post read, "We're married!!!!" and she included a pair of wedding rings. She also tagged her husband in the post. Since Gwen was not able to attend, she congratulated the couple from afar.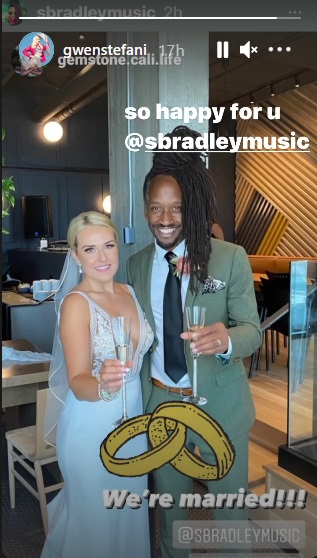 Stephen Bradley and Gwen Stefani have known each other for 20 years. The duo will likely reunite for her Las Vegas residency, coming later this year. Stephen is a musician who has provided backing vocals, keyboard, and trumpet for No Doubt since 1995. Since then, the two have become inseparable.
"I was 23 then and I suppose those formative years made an impact on my life," Stephen said in a 2016 interview. "I knew then that music and lifestyle was meant for me."
The "Slow Clap" singer is currently in Los Angeles with Blake Shelton. The two celebrated their two-week wedding anniversary. They embarked on a PDA-filled tour at a music festival. Also, Gwen shared even more photos from their wedding on Instagram.
No Doubt singer never thought she would marry Blake Shelton
Gwen Stefani had no idea that she would end up marrying Blake Shelton one day. Neither did her fans. The world watched the two go from coworkers to friends to lovers in a short span. Gwen and Blake met on the set of The Voice in 2014 and started dating a year after.
After her divorce from Gavin Rossdale, Gwen had didn't think she would get married ever again. She also didn't think she would wear a white wedding dress ever again. The style icon made news when she first got married in a pink wedding dress. Gwen said that marriage was never on her mind after that public divorce.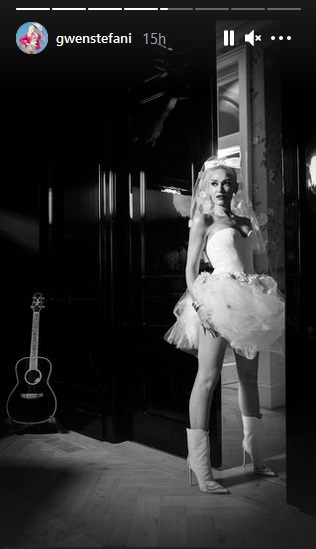 "It [the wedding] was beyond dreamy but I think the crazy part was just it was so unexpected in my life," Gwen told host Jade Iovine on the "Tell Me About It" podcast. "So to try to choose an outfit, a wedding gown and all that, I had no idea what it was gonna be."
Regardless, Gwen says she feels "so lucky." She realized that she can never plan for her future. Now, she's focusing on her future with Blake and what it could bring them. She finally feels a sense of peace after going through so much heartbreak.
Check back with Country Music Alley for more news on Gwen Stefani.