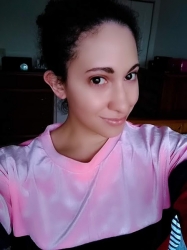 Latest posts by Chanel Adams
(see all)
The Gwen Stefani and Blake Shelton love tour continue. The honeymooners are sharing their love with their fans. They've been making headlines for their latest tour stops. Instead of having a traditional honeymoon, they've been working and singing together.
Gwen loves being Mrs. Blake Shelton. Except she prefers it if her fans called her Gwen Shelton. Her husband granted her wish at the Iowa State Fair. The two packed on the PDA in their latest performance. She joined the country singer on stage during the Iowa State Grandstand concert.
Blake Shelton introduces fans to Gwen Shelton
On Friday, August 13, Blake Shelton had a special treat for fans. His backing band started to play No Doubt's iconic song "Don't Speak" during the Iowa State Fair Grandstand concert. The crowd roared, having a feeling that Gwen Stefani was backstage waiting to make her grand appearance. The singer walked out as fans cheered and screamed.
"Say hello to Gwen Shelton," Blake said as his wife smiled.
Gwen's appearance came as a shock to fans at the show. The couple performed their duet "I Could Be Happy Anywhere With You" after they performed their rendition of "Don't Speak." Blake played the 1996 tune on his guitar. The musician explained how he learned how to play the song.
Another video of Blake & Gwen Shelton singing Nobody But You ❤️

🎥: Bethany Talley pic.twitter.com/948hMQI9tF

— B ♡ G (@iloveBlakexGwen) August 14, 2021
"If there was any silver lining to the quarantine in 2020, it's that I got a lot of time to sit down and jag on the guitar," Blake said during the show.
It was the first time that Gwen performed at the Iowa State Fair. However, it was Blake's second time. He last played in 2008 with Tracey Lawrence. Blake and Chris Stapleton sold over $15,000 standing-room-only tickets at the event. The "Minimum Wage" singer was shocked to see the enormous crowd before him.
OMG OMG you're my fairy tale come true @blakeshelton @gwenstefani 🥺😭🤧 pic.twitter.com/bGXNLCegcM

— Kate🇵🇭 ❤️Blake & Gwen Shelton❤️ (@forgwenandblake) August 14, 2021
Gwen Stefani shares moments from Iowa State Fair
Gwen Stefani took to her Instagram Stories to share moments from the Iowa State Fair. She even shared tweets from fans who enjoyed seeing her on stage with Blake. The pop star shared a clip of herself watching Blake emerge from the stage, all sweaty and happy. He was ecstatic to perform in front of thousands for the first time since the COVID-19 pandemic struck in March 2020.
Gwen couldn't help but watch as her man performed on stage. She gushed over her man as she usually does. The two also mingled with people backstage. After the show, they embarked onto their tour bus as their love tour continues. Gwen and Blake enjoy performing together and it shows.
What are your thoughts? Do you like the name, Gwen Shelton? Do you plan on seeing her perform this year? Sound off below in the comments.
Check back with Country Music Alley for more news on Gwen Stefani.