Latest posts by Mandy Robinson
(see all)
Luke Bryan kicked up his heels this weekend as his family celebrated the marriage of beloved niece, Jordan Chesire to her long-time love, Clint Eudy. Read on to get the details about how Uncle Luke stepped in to make this day extra special for Jordan.
Luke Bryan Takes On Some Extra Kids
Luke Bryan and his wife Caroline have two sons of their own. In 2014 the size of their household would change drastically when they took in and adopted Luke's niece and two nephews when their father passed of a heart attack. Unfortunately, their mother, Luke's sister, passed unexpectedly from 'natural causes'  back in 2007. At this point, Jordan was 19 and in college, but her two younger brothers were still living at home and all were in need of the love and support of family.
According to an interview with People magazine, Luke and Caroline immediately jumped to advocate and care for the kids, adopting all three of them and bringing the boys home, no questions asked.
Bryan's wife, Caroline told the magazine that it was never something they had to pause on. They didn't need to consider it or how it might affect their lives. "We never thought twice about it, she said, "You know, it was never something that he and I had to sit down and talk about, you know, should we take this on? We just did it."
Jordan Chesire Is All Grown Up and Getting Hitched
On September 5th in a gorgeous late-afternoon ceremony, Jordan Chesire married her long-time love interest, Clint Eudy. The pair announced their engagement in December of 2020 after having dated for nearly 7 years. Today reports that the ceremony and reception took place on the grounds of the Troubadour Golf and Field Club in College Grove, Tennessee.
Event planning credits go to Erin Creighton. The couple gives credit for the event design, setup, and production to Emily Clarke Events. The ceremony was nothing short of a magical fairytale according to those who attended. In videos shared to social media by Emily Clark Events on social media, fans were able to see the amazing white floral spread designed especially for Jordan. Event coordinators reveal that nearly 10,000 stems of baby's breath hung in the entrance tunnel to the reception.
The reception took place inside a gorgeous twinkle light and white flower-filled open-air tent. The dark night sky was a gorgeous contrast to the dim lighting and floral setup.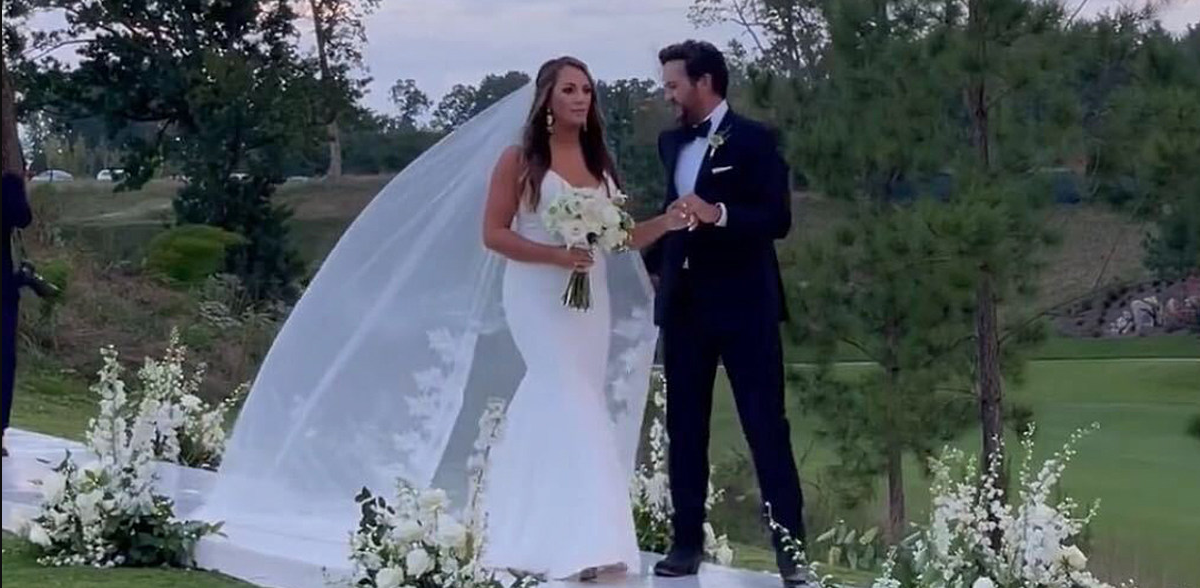 Luke Bryan Stands Up for Jordan On Her Special Day
While Jordan's younger brothers, Kris and Til, were by her side on her wedding day, unfortunately, their parents were only there in spirit. While many can only imagine what it's like to miss one parent during their special day, Jordan and her brothers lost both their mother and father. So, in honor of his late sister and brother-in-law, and the special relationship he has with his niece, Luke stepped in. Videos from several sources on social media depict an overjoyed Bryan smiling from ear to ear as he walks his niece down the aisle to her future husband.
Uncle Luke 🥺 Luke Bryan stepped in to help care for his niece after both of her parents passed away. This weekend he walked Jordan down the aisle at her wedding. The moment where he fixes her veil?! 😭😭😭 🎥: Emily Clarke Events pic.twitter.com/cu7GaJgr7Y

— HELLO! Canada (@HelloCanada) September 7, 2021
Fans melted over the way Luke grinned and rubbed the top of Jordan's hand all the way down the aisle. It truly was a testament to how much his sister's children are loved by Luke and Caroline. Country fans across the world held back a sentimental tear during the clip. Many feel it's Luke Bryan's love for his family and his big heart that makes him so relatable to fans.
Stay tuned to Country Music Alley for all the latest news on your favorite industry stars.