Latest posts by Mandy Robinson
(see all)
Dolly Parton has finally taken the time to talk about her cookbook, "Dolly's Dixie Fixin's: Love, Laughter and Lots of Good Food." As expected, the book contains over 125 different recipes and those recipes are mostly down-home, stick-to-your-ribs, country cooking. What else would fans of this pint-sized country music megastar expect?
Dolly's Inspiration For Her Cookbook
Unlike many of her songs, Parton didn't create these recipes herself. Despite that, much like the country songs she has written, they are based on her life and experiences. Many of the recipes included in her cookbook are from her mother, Avie Lee Parton, and her mother-in-law. Some of the recipes are from the Dollywood (the singer's amusement park) restaurants as well the different places around the world she has traveled during her decades-long career in country music.
Many of Dolly Parton's most personal and favorite dishes are in her cookbook. Those dishes include chicken and dumplings and stone soup. She also added her most personal favorite recipe for banana pudding. Fans of the singer must wonder if banana pudding was a special treat when Dolly Parton was a little girl. Just as expected, "Dolly's Dixie Fixin's: Love, Laughter and Lots of Good Food" is overflowing with southern foods made with love.
What Happens In Dolly's Kitchen
Dolly Parton enjoys cooking for her husband and her family, including her "extended" family. When she is in the kitchen, she stays close to her roots. She prefers to cook country-style dishes, just like her mother cooked. The singer of "I Will Always Love You" and "Coat of Many Colors" describes her "go-to dinner" to be foods in shades of brown and green. That dinner is roasted pork, fried okra and turnip greens. It may not look that great on a plate, but, if Dolly cooked it, it should be delicious.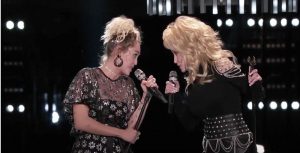 Dolly Parton's Unusual Food Quirk
It is no surprise Parton's favorite foods are those from her childhood in Tennessee. Because of her humble beginnings and growing up quite poor, she was never a picky eater. Despite this she does have one unusual quirk when it comes to food – she doesn't like pretty food. "I don't like pretty food," the country music singer and songwriter stated. "The way I see it, if the food is too pretty, it ain't too good." It is doubtful anyone will ever be checking out Dolly's Instagram account and find staged photos of food. It just isn't the country music star's cup of tea.
If you are looking for a copy of "Dolly's Dixie Fixin's: Love, Laughter and Lots of Good Food," it won't be too hard to find. Her cookbook is available on Amazon as well as many brick-and-mortar retail bookstores around the world.