It looks like Daniel Lissing and Lori Loughlin are an acting pair that cannot keep apart. Today, GAC announced that Lissing is joining his When Calls The Heart costar in season two's new When Hope Calls.
Just in time for Christmas, too, as the season premieres on December 18. The announcement was made today by Bill Abbott, President & CEO of GAC Media.
When Hope Calls, the drama series was renewed for a second season in its move to the GAC Family channel. They were formerly known as Great American Country Network.
GAC Family is lead by President and CEO Bill Abbott, the former CEO of Hallmark Channel parent Crown Media Family Networks.
About When Hope Calls
The OG crew #Hearties #dreamOG @erinkrakow @LoriLoughlin pic.twitter.com/ms2bXVbsc3

— Daniel Lissing (@DLissing) February 19, 2018
When Hope Calls is a historical drama series set in 1916 Brookfield, a fictional, Western prairie settlement of cattle ranchers and farmers. The action takes place in an era where tradition butts its head against the ambitions of a growing city and outsider expansion plans.
Actor Lori Loughlin will reprise her When Calls the Heart role as Abigail Stanton in this two-part second-season premiere of When Hope Calls for GAC.
This new spinoff series centers on Lillian (Morgan Kohan) and Grace (Jocelyn Hudon), who were orphaned and separated as young children. Reunited, now Lillian and Grace have opened an orphanage in the growing township of Brookfield.  Kohan reprised her role in season two as Lillian Walsh, a former orphan who now runs the local orphanage and creates a good solid home for the children in her care.
Lissing will guest star with his former When Calls The Heart cast members Lori Loughlin and Carter Ryan in the two-part premiere of When Hope Calls. Ryan-James (RJ) Hatanaka returns as Mountie Gabriel Winslow. In addition, Wendy Crewson is back, s Tess Stewart, Hanneke Talbot is Maggie Parson, Neil Crone is Ronnie Stewart, and Jefferson Brown is Joe Moody.
Abbott's new network home launched on September 27 under the "Stories Well Told" tagline and boasts a feel-good roster of family-friendly titles and holiday-themed movies and series that celebrate American culture, lifestyle, and heritage.
When Hope Calls is their series, and Super Channel Heart & Home will exclusively broadcast the series for fans up north in Canada.
The creatives behind the series
Alfonso H. Moreno created the spinoff series. Executive Producers of When Hope Calls are Brad Krevoy, Brian Bird, Michael Landon, Jr., Alfonso H. Moreno, and David Anselmo. The producer is Kym Crepin. Supervising Producers are W. Michael Beard and Michael Shepard, and the director is Bradley Walsh.
Additional guest stars will roll out at a later date.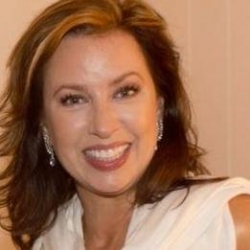 Latest posts by April Neale
(see all)