Today, GAC Family (Formerly Great American Country) announced they are expanding their original holiday lineup.
GAC Family is set to launch on September 27 under the "Stories Well Told" tagline. They will feature programming which celebrates American culture, lifestyle, and heritage with original holiday-themed, family-friendly movies and series.
Three festive movies are coming your way, starring Sarah Lind, Dillon Casey, Jen Lilley, Brendan Fehr, Becca Tobin, and Matthew MacCaull.
Country Music Alley got the details today, and it comes just in time for the holidays, promising a family-friendly alternative to enjoy the season.
About GAC and the three Christmas films
GAC Family has three all-new movies to add to the "Great American Christmas" franchise. The full descriptions are below.
First up is The Great Christmas Switch, starring Sarah Lind and Dillon Casey, which premieres on November 6. Then, Royally Wrapped for Christmas, starring Jen Lilley (Days of Our Lives) and Brendan Fehr, premieres on November 27; and Christmas Is You, starring Becca Tobin and Matthew MacCaull, premieres November 28.
Additional holiday movies will be announced at a later date.
Full film descriptions
THE GREAT CHRISTMAS SWITCH
Starring Sarah Lind and Dillon Casey
Premieres: Saturday, November 6, 2021, at 8 pm ET/PT
Kaelynn and Sophia are identical twins who have grown up believing the other has the better life. Kaelynn sometimes feels unappreciated in her non-stop world of kids and to-dos. Sophia cannot assemble the basics of life, including a healthy work/life balance and evolved relationships.
GAC says:
When Sophia tells her twin she's had to cancel her Christmas vacation to stay in San Diego to work, Kaelynn jumps at the chance to flee the frost of Ohio to take her sister's place. With her sister's kids with their dad for Christmas, Sophia believes her only job will be to watch holiday movies by the fire. Kaelynn feels confident her demanding day-to-day has prepared her for Sophia's grinchy boss and flaky friends. Then, reality sets in! With the familiar turned upside down, it will take a Christmas miracle to make it all right again.
Ernie Barbarash directs the film from an original teleplay by Cara Russell.
ROYALLY WRAPPED FOR CHRISTMAS
Starring Jen Lilley and Brendan Fehr
Premieres: Saturday, November 27, 2021, at 8 pm ET/PT
Lindsay Peterson (Lilley) of Brooklyn, NY, heads up one of the most successful chapters of the Festive Heart Foundation, a philanthropic organization dedicated to underserved children founded by the Royal Family of Veronia. Lindsay is summoned to the kingdom to plan the celebratory gala.
Before she heads to Veronia, Lindsay meets the charity's President, Willard, and Aiden (Fehr), who Lindsay believes is the organization's accountant. However, Lindsay discovers the "accountant" is really Crown Prince Aiden, who ascends the throne after his mother, Queen Rayna.
GAC says:
Committed to the mission of the charity, Lindsay proposes a new idea based on a tradition she learned from her grandmother: each Christmas, two gifts must be given. One to keep, one to give. Veronia's Parliament enthusiastically accepts Lindsay's proposal for the charity, vowing to change the world in the kindest way. Now Prince Aiden must decide if the commoner from New York who has helped so many may have just stolen his heart.
Director is T.W. Peacocke from an original screenplay by W. Stewart.
CHRISTMAS IS YOU
Starring Becca Tobin and Matthew MacCaull
Premieres: Sunday, November 28, 2021, at 8 pm ET/PT
Her boss Rachel orders Emma Bloom at Old Town Records: go home for the holidays and convince former boyfriend and national recording star, Tyler Thorn, to sign with Rachel's label or find another job. Tyler is going home for Christmas for the first time in years after abruptly quitting his label. The twist is Emma broke Tyler's heart on Christmas Eve several years ago when she turned down his marriage proposal. This Christmas, the two may hit all the right notes and get back together.
Allan Harmon directs from an original screenplay by Jenna Thompson.
GAC Family Upcoming Premieres – All times 8 pm ET/PT
Oct. 23 – An Autumn Romance, starring Chad Michael Murray, Jessica Lowndes, Dennis Andres, Moni Ogunsuyi, and Michael Brown
Oct. 24 – Welcome to Great American Christmas, with hosts Debbie Matenopoulos and Cameron Mathison
Oct. 30 – Much Ado About Christmas, starring Susie Abromeit and Torrance Coombs
Nov. 6 – The Great Christmas Switch, starring Sarah Lind and Dillon Casey
Nov. 13 – Christmas Time is Here, starring Dewshane Williams, Rukiya Bernard, and Tom Pickett
Nov. 20 – A Kindhearted Christmas, starring Cameron Mathison and Jennie Garth
Nov. 27 – Royally Wrapped for Christmas, starring Jen Lilley and Brendan Fehr
Nov. 28 – Christmas Is You, starring Becca Tobin and Matthew MacCaull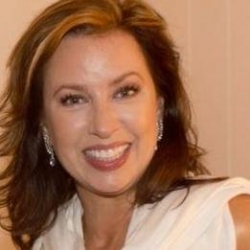 Latest posts by April Neale
(see all)