GAC wants to be your holiday headquarters for Christmas break! Today the network announced that Jill Wagner and Nick Bateman would star in an original Christmas movie for the newly rebranded channel formerly called Great American Country Network.
GAC Family today announced Jill Wagner (Christmas in Evergreen) and Nick Bateman (Gambit: Playing for Keeps) are starring in a GAC Family original movie tentatively titled, A Christmas Miracle for Daisy.
Mark your calendars for this holiday movie premiere set for December 11 at 8 pm ET/PT as part of GAC Family's "Great American Christmas" franchise.
About the Christmas Miracle film
Montana is the perfect snowy setting for this unlikely romantic film. Christmas movies set in Miami don't feel right, do they?
From feel-good film super-producer, Brad Krevoy and company comes A Christmas Miracle for Daisy, where Whitney Alder (Wagner) owns an interior design firm, Marietta Designs.
It's a joint effort with her friend and business partner, Andi (Tegan Moss), located in Marietta, Montana.
The task is designing a parade float, Santa themed, of course, for the annual Marietta Christmas Parade when a potential job opportunity comes her way: the full redesign of a landmark home by Christmas Eve.
A daunting challenge considering the time of year, but Whitney and Andi accept the job – only to discover the home's new owner is Whitney's ex-boyfriend, Connor Sheenan (Bateman), who left Los Angeles with his sweet young adopted daughter, Daisy (Rubi Tupper).
The twist is that Connor had no intention of being a dad, but when his goddaughter was orphaned, he adopted her and is committed to becoming a devoted father.
But Daisy needs a mother too, enter the chemistry, history, and natural attraction that exists still between Whit and Connor. You get the jingle bells, reindeer games and fa-la-la-la-las the writers have in store for us all as these two fall back into each other's orbit.
Daisy believes that Christmas is a time for miracles. Whitney and Connor better not disappoint her!
Fun fact for you Christmas movie nerds out there, Jill's daughter's name is Daisy, so Country Music Alley hears from reliable sources that this movie is special for her.
The creatives behind the film
A Christmas Miracle for Daisy is the working title, meaning it may change ahead of air date, but Country Music Alley will keep you posted.
And the Executive Producers are Brad Krevoy, Amanda Phillips, Eric Jarboe, Vince Balzano, Jill Wagner, Susie Belzberg Krevoy, and Mike Rohl.
The Supervising Producers are Anthony Epp, Jonathan Shore, and Michael Shepherd. The producer is Donald Munroe. The Associate Producer is Rob Grant.
Mike Rohl directed the film from the original teleplay by J.B. White, adapted from Jane Porter's novel, A Christmas Miracle for Daisy.
View this post on Instagram
GAC Family (formerly Great American Country) launched on September 27 under the tagline "Stories Well Told" and features family-friendly, holiday-themed movies and series that celebrate American culture, lifestyle, and heritage.
The holiday movie premiere is set for December 11 at 8 pm ET/PT as part of GAC Family's "Great American Christmas" franchise.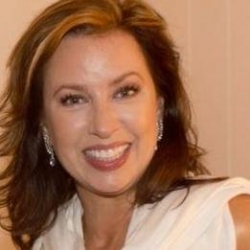 Latest posts by April Neale
(see all)