Latest posts by Mandy Robinson
(see all)
Country diva Maren Morris was turning heads on Thursday when she posted a super-sexy snapshot of her stories on Instagram. What about this photo that had the songstress' followers doing a double-take? Read on to get the details about Maren's latest social media post.
Maren Morris Keeps It Smooth Like Butter
On Thursday, country music star Maren Morris took to Instagram to share a sexy snapshot of herself that definitely snapped up her follower's attention. In the photo, the 32-year-old singer posted a photo of herself posing in what appears to be a hotel bathroom. Standing in the doorway of a hotel bathroom, Maren poses with one hand on the door frame. Her hip is cocked to one side and she holds the camera in the other hand.
In the photo, the star is wearing a flattering, skin-tight two-piece workout ensemble. The powder blue outfit consists of a Bermuda-length pair of bike shorts and a wide strapped low-cut sports bra.
"will be living in the @aritzia TNA butter sets all tour," she wrote as a caption on the photo.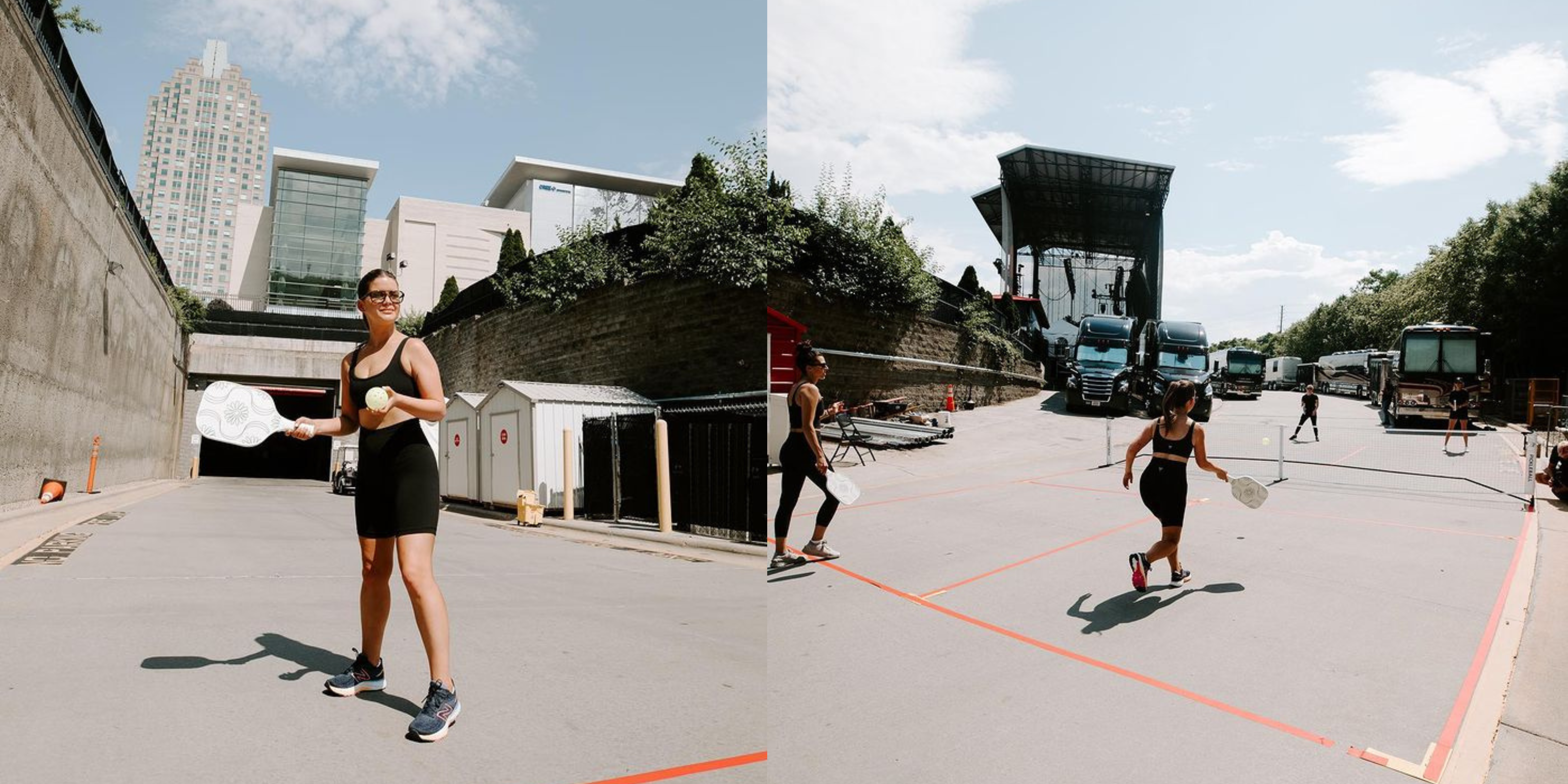 Maren Shows Off Cleavage And Rock Hard Abs In Workout Gear
While many were curious about where she got the super flattering workout set – the focus was definitely Maren Morris' super toned 'mom bod.'
Maren son turned two this year, and having a high-strung toddler at home definitely hasn't hurt the celeb's physique. Her sky blue workout ensemble hugged her every curve,  showing off her trim, toned tummy. The outlines of her ab muscles peeking through her tan skin.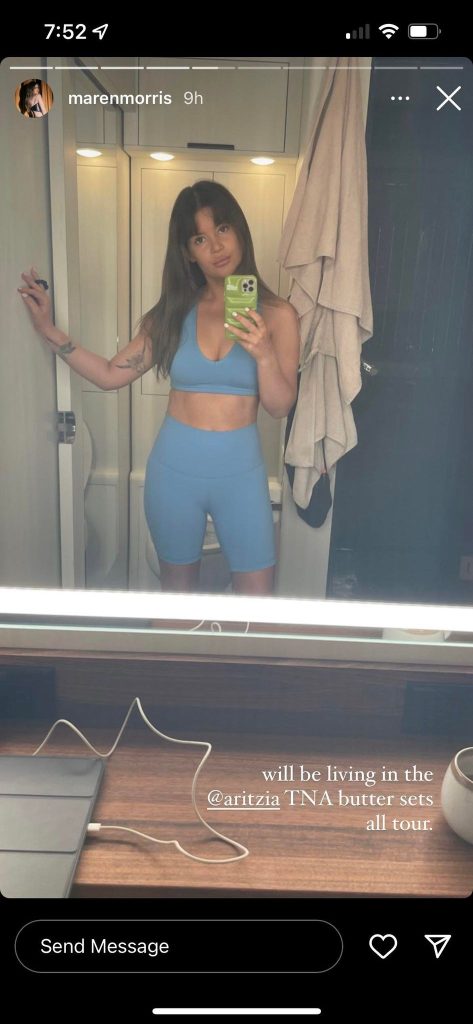 Maren Morris was also showing off her lean arms that displayed several large tattoos. The wide-banded ultra-supportive push-up sports bra hiked up the singer's assets, showing off a sexy yet tasteful amount of cleavage.  The country performer further won over her follower's hearts with the fact that she chose to post the sexy snap despite not wearing a lick of makeup. Her dark brown hair was down, landing straight and unstyled around her shoulders. Her tan, freckled face was bare though her cheeks had a slightly pink glow as if she had gotten some recent sun.
Keeping It Real On Tour
Right now, Maren is touring the country promoting her latest hit album Humblequest. Snapshots like these allow show fans what life is like between the stages. It's not all makeup and rhinestone dresses. There is a lot of downtime on the road and she is not afraid to give her followers a look inside what actual life looks like behind the scenes.
Just yesterday, Maren shared a series of black and white photos of her and her crew killing some time before the opening night of her tour. In an open parking lot of a Raleigh, NC venue, Maren and friends played pickleball to work out some nervous energy.
"Pickle Ball Queen," she captioned the photo set, "(yes we made custom paddles to match the tour) See you tonight, Raleigh! OPENING MF NIGHT. "
Maren's fans loved seeing her having fun like any other Southern girl. Her fans rallied in their responses, begging Maren to mass product her pickleball paddles and make them available as tour merch.
Will you be making a trip to see a show on Maren's Humblequest tour? Let us know in the comments! Tag us in your concert photos on social media @CMAlley21 we'd love to see them!