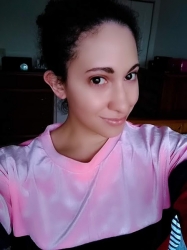 Latest posts by Chanel Adams
(see all)
Gwen Stefani gyrated in fishnets with a plaid minidress in a sexy video. The No Doubt singer teamed up with singer Shenseea and rapper Sean Paul for their latest music video, "Light My Fire." It's the follow-up to her previous singles "Slow Clap" and "Let Me Reintroduce Myself."
For this steamy video, the songstress went without her cowgirl duds. She went back to her signature ska-punk style. Gwen rocked a black long-sleeve fishnet top underneath a green and yellow plaid lace-up minidress. She finished off her look with thigh-high fishnet stockings, plenty of jewelry, and sexy shoes.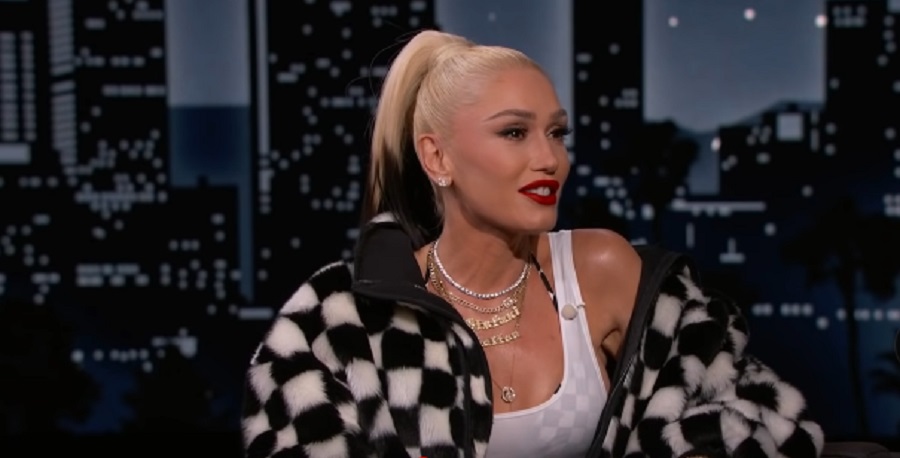 Move over, Blake Shelton!
On Wednesday, July 13, Sean Paul dropped the music video. Gwen Stefani gyrated with him in the sizzling video while Shenseea danced alongside them. The 52-year-old relied on her hairstylist Danilo Dixon to get the perfect look. She rocked a funky updo with braids that cascaded around her face.
The Jamaican dancehall song got everyone moving. In fact, Gwen Stefani couldn't stop dancing in the video. She got her groove on with just about anyone and everyone. It's one of the raunchiest videos in a while.
The sensual lyrics go, "Baby won't you light my fire / Can't you take me higher? / When you rubbin' on me / You really spark my flame."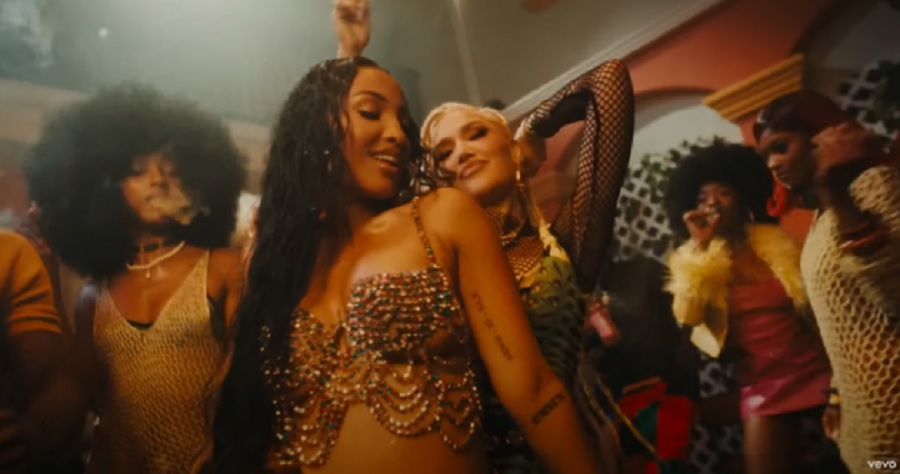 Sean Paul released a statement to Daily Mail about the new song. He called it an "epic dream come true." He's been waiting years to work with the singer. The reggae rapper says he hopes that the single makes people "feel good and party lovers rock style."
"Light My Fire is an epic dream come true. I've been a fan of Gwen Stefani forever and Shenseea — I am so proud of all she's accomplished in such a short time. Light My Fire is a big bad lover's rock song and we had to represent it with a big bad video. We went retro on the attire in the video and basically getting ready to party and lovers rocking."
Gwen Stefani's sexy little performance
Gwen Stefani couldn't wait to perform her song on Jimmy Kimmel Live! on Wednesday night. The mother of three wore a golden illusion halter top that made it look like she went braless. She also wore black high-waisted mesh underwear underneath her olive green cargo pants and matching sequin boots.
Gwen Stefani's signature platinum blonde hair was divided into five separate ponytails for the occasion. She finished off her look with dainty jewelry and minimal makeup. Check out the photos for yourself here, courtesy of Daily Mail. Gwen looked every bit like a pop star as she entered the New York City studio.
Check out her steamy performance with Sean Paul in the music video below. They have great chemistry together. But Blake Shelton doesn't have to worry. Gwen Stefani gushed about her husband after returning to The Voice this week.
What are your thoughts on Gwen Stefani's new music video? What do you think of her looks? Do you like her country music more? Sound off below in the comment section.
Check back with Country Music Alley for more news on Gwen Stefani.