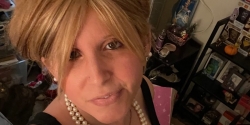 Latest posts by Amanda Nowitz
(see all)
Kelsea Ballerini is a single woman. The singer announced that she and her husband of five years, Morgan Evans, have ended their marriage. She shared the news via Instagram and it has clearly left her speechless. What went wrong? Read on for more details.
Kelsea Ballerini Announces The End Of Her Marriage
Kelsea took to her Instagram story to share the news that she and Morgan had split. She wrote out a note to all of her fans and followers, addressing what was transpiring. More so, the hope was that it would be treated with kindness as this was not easy by any means.
Fans immediately took to Twitter to express their sadness for the couple.
"So sad wishing them the best. Loved them together."
"Sorry to hear this."
Of course, there were a few who felt hopeful that they had a chance with one of the two now that they were single. Moreover, from Kelsea's statement, it does not appear that she is all that eager to jump into anything new. However, it seems that it will be the music that will save both of them during this difficult time. So, what actually went wrong? It appears that they just grew up and therefore, they grew apart. Additionally, Kelsea was just twenty-three when the two exchanged vows.
The Way They Were
According to Us Weekly, Kelsea Ballerini and Morgan Evans started seeing each other in March 2016. It only took nine months to realize this was their forever. Morgan proposed on Christmas 2016 and Kelsea could not have been giddier. "Loving him has been the greatest gift of my life. And now I get to do it for life," she revealed after sharing that the two were getting hitched. The following December, they wed in Mexico and Morgan revealed that his wife was his muse on Things That We Drink To.
"It's losing someone and finding the strength to keep your head up and make them proud. It's meeting a girl, falling hopelessly, and marrying the love of your life." The two continued to support each other on red carpets and at award shows. Finally, they still seemed in a fairly good place around a month prior to the split. Sadly, they are now moving on. Yet it seems like they have the right attitude and hopefully they can remain amicable throughout it all.
Currently, Kelsea Ballerini is preparing for her tour and a new album so that should be a good distraction. Sending our best to both of them. Does this split shock you or did you expect it? Let us know.