Dolly Parton showed off her bare legs in ruby-red stilettos. The 76-year-old appeared on The Tonight Show with Jimmy Fallon. She glittered in a bold dress in her latest look. The country legend admits that she doesn't like going to the gym but she looks great no matter what.
Dolly Parton kicks up her heels on the Tonight Show
Earlier this week, Dolly Parton stopped by The Tonight Show. Dolly Parton wore a sequin dress that was fit for the holiday season. The platinum blonde singer paired the look with bare pantyhose and ruby-red stilettos. In fact, her legs stole the show during the interview.
During her appearance, she talked about her new Christmas movie and her Uber driver, who was starstruck. There's no denying that every generation loves Dolly Parton. She continues to captivate a new generation of fans on social media. What also helps is that young acts like Lil Nas X and her goddaughter Miley Cyrus perform her music.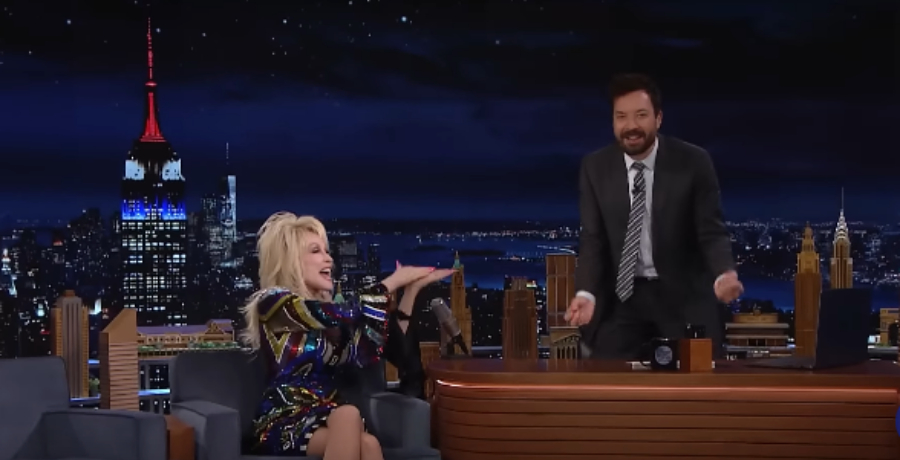 This isn't the first time that Dolly Parton has shown off her incredible body. As Country Music Alley previously reported, she wore a black leather catsuit when she was inducted into the Rock & Roll Hall of Fame. The country singer wanted to fit the part of a rockstar. So, she wore a black leather jumpsuit that featured red and white rhinestones.
In an interview with WSJ Magazine, Dolly shared that she's not interested in working out at the gym. What she does is "rejoicing exercises." The dolled-up singer is very protective of her image. She doesn't want anyone to see her without makeup or to see her break out into a sweat.
Dolly explained that she "grew up in the Pentecostal church." The services involve a lot of jumping up and down. She spends her mornings jumping and shouting while praising the Lord.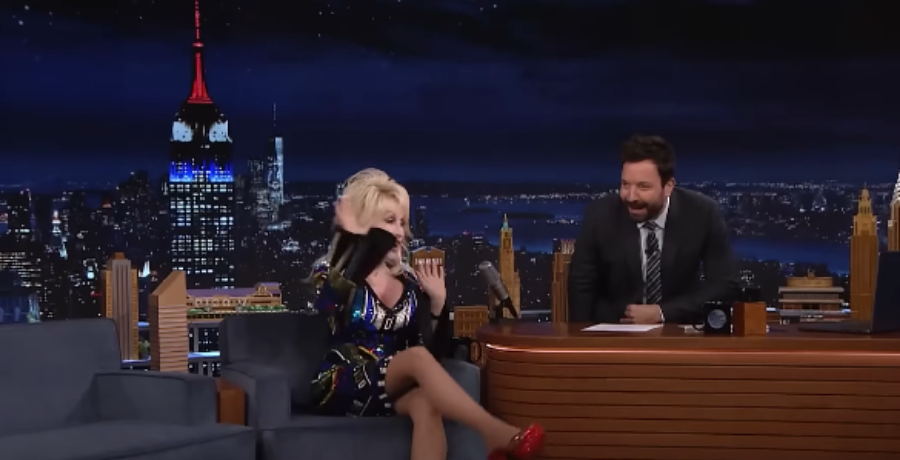 Inside the "9 to 5" singer's morning routine
Dolly Parton revealed that she wakes up around 3 a.m. She loves spending time with God in the "wee hours" of the morning. The routine fills her with peace and joy. Dolly prays and listens to God as He guides her on her day, including her style and career choices.
"I pray every day that God will put all the right things, all the right people in my life, and take all the wrong things, all the wrong people out, and guide me," Dolly Parton shared. "Then I figure out what I want to wear and what I want to accomplish…and I have my cup of my ambition."
I want to help you spread some holiday cheer this year! Head to the link to send my exclusive holiday digital greeting card to your family and friends this Christmas. 💕 https://t.co/5G8Mg7yhQV pic.twitter.com/pK6k2sy5Sz

— Dolly Parton (@DollyParton) December 1, 2022
As it comes to her diet, she admitted in her documentary, Dolly Parton: The Queen of Country that she didn't always follow a healthy diet. She would follow crash diets that never stuck. Before she knew it, she would have to "start all over again." Now, she just makes easy meals like "homemade egg salad" and follows a low-carb diet.
What are your thoughts on Dolly Parton showing off her bare legs in ruby-red stilettos? Do you love her latest look? Are you surprised about her low-key diet and fitness regimen? Sound off below in the comment section.
Check back with Country Music Alley for more news on Dolly Parton.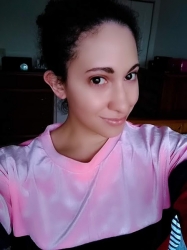 Latest posts by Chanel Adams
(see all)