Latest posts by Shawn Lealos
(see all)
Kelly Clarkson fans love to watch her perform Kellyoke on her daytime talk show. It became even so popular that Kelly released an album of some of her favorite Kellyoke songs. Now, fans have one more thing to love about it. Kelly brought out Dolly Parton to sing with her this week.
Here is what Dolly Parton and Kelly Clarkson sang in Kellyoke this week.
Kelly Clarkson and Dolly Parton perform Kellyoke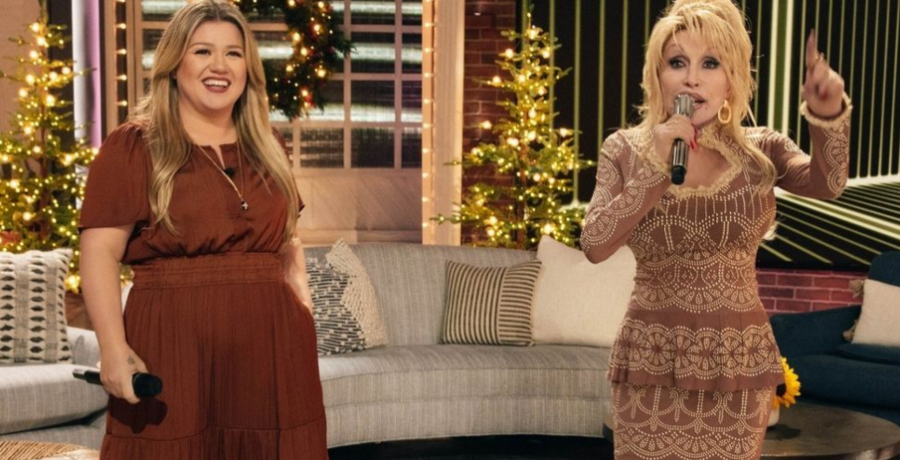 Kelly Clarkson teased the performance, and it was everything that fans could have hoped. On Thursday's episode of The Kelly Clarkson Show, Kelly brought out country music legend Dolly Parton to sing with her. Dolly, who was just inducted into the Rock and Roll Hall of Fame, was more than ready for the duet.
The song that the duo sang was the Dolly Parton classic "9 to 5." The original song was the title track from the classic Dolly Parton movie of the same name where three hard-working women had to deal with a ruthless boss who didn't respect any of them. This song was a reworking of that classic country song, though.
It was a fun performance too as Kelly started singing the song on her own before she then called out Dolly to join her, much to the fans' excitement. By the end of the performance, Kelly Clarkson bowed down to Dolly Parton.
Dolly Parton and Kelly Clarkson recorded this version
Earlier this year, Kelly Clarkson and Dolly Parton recorded their unique version of "9 to 5." The song was recorded for the documentary about the movie called Still Working 9 to 5. The song went from the poppy fun song that Parton sang for the original movie to a more country-tinged ballad with the two women singing it together. The movie and original song came out over 40 years ago when the movie was released in 1980.
"I am so honored that Dolly asked me to reimagine this iconic song, '9 to 5,' with her," Kelly said at the time. "She is so talented, an inspiration to all women, and one of the sweetest people you will ever meet. I hope y'all like what we did, but even if you don't, remember I got to sing a duet with the magical Dolly Parton and now have bragging rights til the end of time!"
The original "9 to 5" hit number one on the Billboard music charts. It ended up two-time platinum. The duet with Kelly didn't chart upon its release.
What did you think about Kelly Clarkson and Dolly Parton's Kellyoke rendition of "9 to 5"? Let us know your thoughts in the comments below.