Latest posts by Mandy Robinson
(see all)
After canceling his concert last night, Morgan Wallen went to his Instagram today to share that he is canceling the shows for the rest of the week. Fans are pretty upset that they will have to miss out, but he did reschedule. Morgan also offered a refund option.
Morgan Wallen Cancels Concerts
Morgan Wallen went to his Instagram Story and shared that he is canceling the rest of his concerts this week. He said, "Ya'll know how important my fans are to me, so I feel horrible about this news. There's nothing more I want to do than be on stage playing for you guys. But as of today, I'm on doctor-ordered vocal rest and we have to reschedule this week's shows. I appreciate and understand everything you do to get to my shows, so it would be unfair of me to put on a show that I know will not be 100%. I'm doing everything I can to speed up the process and getting to that 100% mark."
You can check out the new dates in his post below. Morgan Wallen also explained what to do if you want a refund.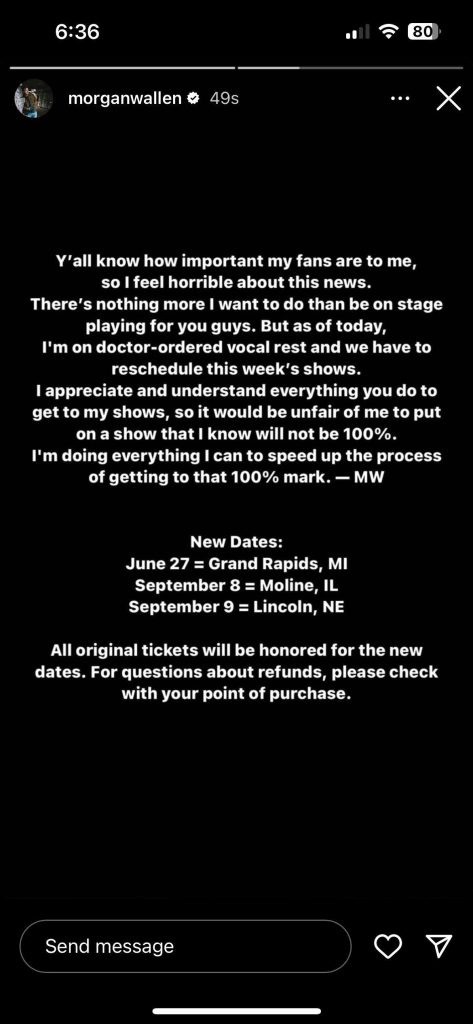 Rumors Fly About What Is Really Going On
Rumors have been flying about what really happened when Morgan canceled his concert last night. He said that he lost his voice, but he didn't cancel until it was almost time to go on stage. A security guard from the event shared that Morgan was actually at the hospital and was taken by ambulance. He said that he had too much to drink and was intoxicated. There is no proof of this other than what the security guard said he heard from the head of security.
View this post on Instagram
Opening act Ernest even went to Twitter to defend Morgan Wallen. He responded to a comment about Morgan allegedly being drunk and said "Cap." This basically means that it isn't true at all. So far, Morgan hasn't defended himself to fans. He made a post last night explaining why he canceled and then the new one today that also explained his voice was the reason for not being able to perform. The fans would love to hear from Morgan about the rumors, but so far that isn't happening.
Are you sad to hear that Morgan Wallen canceled his concerts this week? What do you think is really going on? Share your thoughts in the comments below.
Update: The security company is saying they don't stand by the statements of the security guard.