Latest posts by Mandy Robinson
(see all)
Morgan Wallen is dealing with a lot of rumors after canceling his show last night at Ole Miss. Morgan stated that he lost his voice and that was why he couldn't perform. Then the rumors started flying and a security guard even put in his two cents. The security guard stated that Morgan Wallen had to be taken away in an ambulance due to drinking too much. This TikTok quickly went viral.
Rumors About Morgan Wallen Running Wild
The rumors have been running wild today about Morgan and what really went down. A lot of this is because of the security guard who revealed his side of the story. He didn't have any proof but said that this was what he heard from the head of security.  You can check it out below.
Morgan Wallen's Statement
Morgan Wallen did go to his Instagram and share a statement on his story. It said, "After last night's show I started losing my voice so I spent the day resting up, talking to my doctor and working through my vocal exercises trying to get better. I really thought I'd be able to take the stage and it kills me to deliver this so close to showtime, but my voice is shot and I am unable to sing." There have been multiple comments on the Internet that he was losing his voice at a recent concert as well. The confusing part is why he didn't cancel earlier in the day and waited until it was almost time to go on the stage to tell his fans.
Morgan is refunding the price of the concert tickets and they still got to see the opening acts. The thing is a lot of fans spent gas, hotel, merchandise, food and other money that they won't be getting back. They didn't get to see Morgan Wallen in concert either.
Ernest Defends Morgan
Now country singer Ernest is defending Morgan and basically saying that this isn't true. There was a tweet, which you can see below, saying that Morgan allegedly had alcohol poisoning and had to be taken to the hospital. Ernest replied to this by saying "Cap." This basically means that it isn't true. It is interesting that one of his opening acts is denying these rumors. So far, Morgan Wallen is still staying quiet and hasn't spoken out against the theories going around the Internet today.
Update: The security company is saying they don't stand by what the security guard said.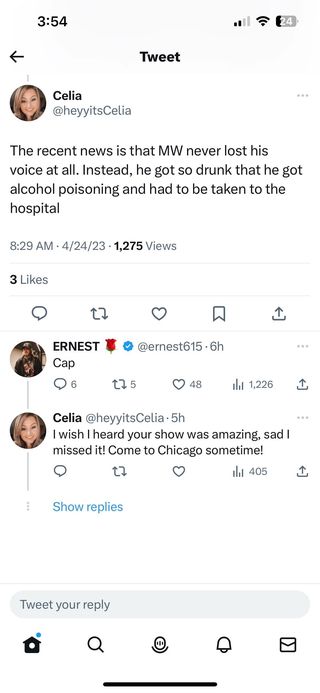 Do you believe Ernest that Morgan Wallen wasn't drinking? Share your thoughts in the comments section below.
Update: Morgan just canceled his concerts for the rest of the week! Get details here.