Latest posts by Mandy Robinson
(see all)
Last night Morgan Wallen was supposed to perform at Ole Miss. His opening acts came on and did their performance and then it was revealed that Morgan would not be performing. This was allegedly due to him losing his voice, but fans aren't buying it. A security guard is telling another story as well.
Morgan Wallen Cancels Concert
Morgan Wallen went to his Instagram Story to share that he was canceling his concert. Here is what he said below.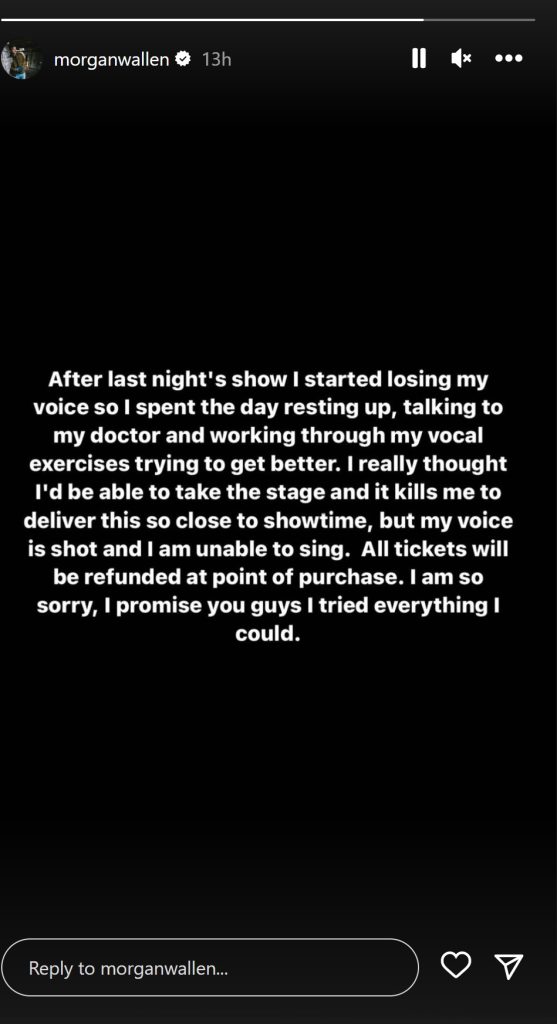 They came out on stage and announced that he wouldn't be performing either, but simply by reading an announcement. Morgan didn't come out and talk to fans, which a lot of them feel like he should have done. Instead, they were just told he wouldn't be there and they would get a refund. There is a lot of speculation about why he actually canceled the show, though.
What Fans Think Happened
One theory is that Morgan Wallen had to have his stomach pumped and another was just that he was hung over. The tweet below shows some of what has been being talked about on social media this morning.
So let me get this straight. Morgan Wallen gets shit faced the night before his concert, has to have his stomach pumped, let's 80000 people enter the stadium while knowing he can't perform, let's them buy liquor and merch to make a extra $ and then cancels 2 minutes before show?

— Liz ✨️ | eras tour admirer 🩷 (@feverdreamliz) April 24, 2023
Now a Tiktok shows a security guard talking about it and he has a totally different story than Morgan Wallen shared with fans. This theory makes more sense seeing that Morgan canceled the show with just a few minutes to spare. If he really had lost his voice, he would have probably have known all day that performing that night was going to be hard.
This security guard says that Morgan Wallen couldn't walk and that "losing his voice was bullcrap." He went on to say that Morgan was too drunk. They said that the ambulance took him off and that he wasn't there anymore. He said that they were told that by the head of security. He doesn't show any proof of his accusations, though.
New Update: The security company is saying they don't stand by these statements.
Fans Upset On Social Media
A lot of fans are upset on social media. Yes, they will get refunded for the cost of their concert tickets, but this doesn't help with the money they spent on gas, merchandise, food and even hotels. Morgan Wallen concert tickets are hard to get anyway. Comments on the TikTok are that the security guard will now be fired. There is also some talk that during Morgan's show on Saturday, he was already losing his voice.
Are you shocked by Morgan Wallen canceling his concert at Ole Miss last night? What do you think happened? Sound off in the comments below.
Update: Ernest is now defending Morgan against these rumors. Read more here. 
New update: Morgan Wallen just canceled the rest of his concerts for this week!