Latest posts by Haley Cook
(see all)
Country music star Miranda Lambert is known for her golden locks, amazing voice, and stunning body. Now, she's showing off a few of those things in a new post. Keep reading to learn more and see her amazing look.
Miranda Lambert poses in blue
In a new post, Miranda Lambert is showing fans her elegant but seductive side. The country music singer took to her own Instagram to share a snap of herself in a stunning blue dress. The dress, which appears to be a rather bright, cobalt blue, is made of a silky fabric that shines bright in the lights. It's a long dress, hanging down around her white boots, but features a large slit that cuts up Miranda's thigh.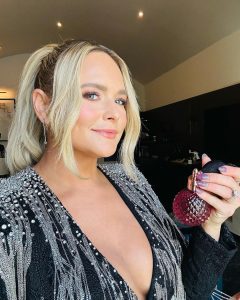 Although it's buttoned all the way up, Miranda is still able to flaunt her amazing figure. The blue highlights all of her curves and makes her bust look bigger and better than ever before. Her bright blonde hair is curled as it frames her face and hangs down her shoulders. It seems that the bold blue of the dress makes her hair shine even brighter. As for makeup, she went with a lighter glam, showing off her rosy cheeks and glowing skin.
In the photo, Miranda is sitting perched on a blue couch that matches her dress perfectly. She is looking up at the camera with a flirty look in her eye as she holds herself up with her toned arms.
View this post on Instagram
Obsessed with her and the dress
Of course, Miranda has endless fans and 4.8 million followers on Instagram alone, so she's bound to get some love on her posts. This time is no different. It seems fans are enamored with her look and her dress in the post that she shared. Most can't get over just how good she looks in that bright blue color and they were sure to let her know.
"It's a slay for me 🤌🏼"
"That cobalt blue is YOUR color, ma'am! 😍💙"
"Absolutely Beautiful Shining Star Blue"
"That color blue is gorgeous on you! ❤️"
"That color is gorgeous on you!🔥"
There's no telling what Miranda will post next, however, it seems like no matter what, her fans are sure to love it!
Do you follow Miranda Lambert on Instagram? What dou think of her blue look? Let us know in the comments below! Be sure to come back to Country Music Alley for more on all of your favorite country stars.