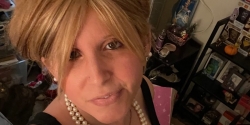 Latest posts by Amanda Nowitz
(see all)
Jelly Roll is showing gratitude in an unthinkable way, further proving what a standup man he truly is. He has been doing amazing things over the last few weeks and it seems like he just won't stop. This is one of the many qualities that has made fans absolutely fall in love with him. So, what exactly did the country superstar do? Read on for more details.
Jelly Roll Shows Gratitude In Unthinkable Way
Concerts for Jelly Roll are blowing up as they are an incredible experience to be a part of. Yet, it is also the way he goes about treating those in attendance that really makes an impression. If he sees a concertgoer in need, he will not hesitate to halt the show to immediately get medical attention. Additionally, if he spots someone from his past who he has fond memories of, he also will halt the show to reminisce. There have been so many bad times in his life that, of course, he wants to bask in the special ones.
Furthermore, if someone really makes an impact on him, Jelly Roll will go the extra mile for them. According to Whiskey Riff, he recently stopped to get his precious pooch, Bussie, groomed. They stopped at Happy Tailz Grooming in Pennsylvania which is owned by Tina McGregor. Coincidentally, Tina was actually exiting early so that she could actually attend Jelly's show that same night but clearly had to stay to tend to the pooch. Luckily, she did not bail early as she did not just get to groom Bussie but also received backstage passes to meet the singer.
The company shared this on its Facebook page along with what transpired to get them to meet Jelly. Fans thought that this was so cool and Bussie's main groomer noted they love her so much. It seemed like the general consensus was that it was "awesome" and "so cool" which it really was. Jelly came in for a service and he went the extra mile to show gratitude which is something he clearly did not have to do. However, it shows how much Bussie and those around him truly matter.
Pit Stops
Jelly Roll has been giving back along this leg of the tour by stopping at jails to give encouragement to inmates. He knows how it feels to be locked up as he has been in that position. Yet, he found his way out and he wants to keep inspiring. Additionally, he made a dying woman's wish come true. The goodness does not stop and fans will keep showing their gratitude by coming to shows and buying his music.
What do you think of Jelly giving the dog groomer backstage passes? Was that not the kindest thing? Let us know in the comments below.