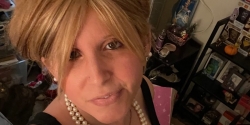 Latest posts by Amanda Nowitz
(see all)
Jelly Roll, who is covered head to toe in tattoos, is revealing the ones that he would ultimately keep. He has been open about the fact that he would remove much of his ink. Yet, there are some pieces that hold a special place in the country superstar's heart. Which ones are they? Read on for more details.
Jelly Roll Reveals What Tattoos He Would Keep
At first glance, Jelly Roll's tattoos are quite noticeable. He has them on his face, which can be offputting to some. However, they are just a small piece of who he is as a person. Jelly may have done some rough stuff in his past, which still haunts him, but he has more than redeemed himself. He takes absolutely every chance he can to give back to those in need while continuing to inspire. More so, he wants to make sure that inmates are aware that there is a better life on the outside. Jelly is proof of that as he is successful in his career, marriage, and as a father of two.
Now, he is being very transparent about his thoughts on his own tattoos, according to Music Mayhem. He discussed his regrets on Audacy Check In: "Oh, 96% of them. I have more tattoo regrets than I do, 'Man, I'm glad I got this.'" Jelly went on to add: "Listen, if Ronnie Radke, who is a friend of mine, hadn't beaten me to blacking out his arms first, I would have done the same thing." He further noted that the thought process from sixteen to thirty-six is quite drastic. However, he does not hate all of them.
Of course, the ones that Jelly Roll would keep are from his time on tour. The reason is that he believes that they tell a great story, which is completely fair and understandable. As for the rest of them, he wishes they were not there. Yet, the one he hates the most is a Gerber baby smoking weed. Jelly notes that he hates whoever was around when he did this, more so whoever allowed him to go through with this particular tattoo.
The One Core Tattoo
There is one tattoo that Jelly Roll seems to appreciate a lot. It is his apple core ink that he dons on his face and is a tribute to a group of his fans that are known as "the bad apples." This title is an homage to an early Jelly song so it is sweet that he cares about his fans that much to do something like that. Though he regrets 96% of them, there's that 4% that hold a special place. Plus, would he be as recognizable without them?
What do you think of Jelly Roll's tattoos? Would you miss them if they were gone? Let us know in the comments below.