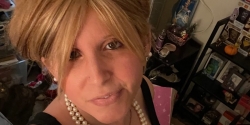 Latest posts by Amanda Nowitz
(see all)
Carrie Underwood strutted her stuff in a sexy micro mini dress for a good cause. The country superstar, who has legs for days, had no problem showing them off recently. So, what was the reason for the full-on display? Keep reading for more details on her amazing outfit for the best reason.
Carrie Underwood Struts In Sexy Micro Mini Dress For Good Cause
The one thing about Carrie Underwood is that she can pull off any look that she tries. From super short shorts to a sexy getup, she works it in the best way possible. Plus, she has a workout line and wears that better than anybody. Recently, Carrie appeared on The Today Show and she did not just perform. She also strutted all that she had in a long-sleeved, belted, sexy green micro mini dress with a fun fringe. Yet, it was the message that she brought along with her that was absolutely beautiful.
View this post on Instagram

According to her Instagram, Carrie Underwood shared this: "Thank you to all the fans who came out to see us on The Denim & Rhinestones Tour! YOU made this donation! ❤️" The same day that she performed, it was revealed that her tour garnered 420K for Tunnels to Towers. Their mission is: "Supporting America's first responder and military heroes, including homeless veterans, and helping America to Never Forget 9/11." So, this was something incredible that Carrie selflessly did, and was happy to both share and celebrate with her fans.
Woa Carrie! #911tribute pic.twitter.com/cPDOdeFeXm

— Ms. Smith (@MsSmith17743658) September 16, 2023

More so, her followers were so impressed with what she had done that they could not help but comment. "It is such a wonderful organization. Thank you Carrie for bringing it to the forefront!" one wrote. Another added: "Have a whole new respect for Carrie after this ❤️❤️❤️ hard to top bc I already adore her!" She then went on to belt out some tunes for the audience in NYC who was ready for Carrie's showstopping performances. Even better was that she looked like a million bucks while doing so.
Charitable Carrie
After fans learned that this had happened, they were excited that they had attended one of Carrie Underwood's shows. Of course, it made it all the more meaningful that they could be a part of this special moment. However, Carrie also supports a variety of other charities including:
ALS
C.A.T.S.
Janie's Fund
Music Rising
PETA
Red Cross
St. Jude
Stand Up To Cancer
The Humane Society
Plus many more so giving back is in her blood. This is just a small way of her showing her support for Tunnels to Towers while giving a killer show at the same time.
Did you have any idea that she was this giving? Finally, did you attend any of her show? Let us know in the comments below.