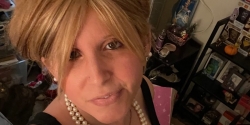 Latest posts by Amanda Nowitz
(see all)
Wynonna Judd is clarifying just what was wrong with her during her 2023 CMA performance with Jelly Roll on Wednesday, November 8th. The two took the stage to duet on his hit song, "Need A Favor," but the redheaded icon was visibly off physically. So, is everything okay? Read on for more details.
Wynonna Judd Clarifies Scary 2023 CMA Performance
When Wynonna Judd took the stage to join Jelly Roll, she appeared unstable and had trouble walking. Then, when she met Jelly, she immediately gripped onto him, as if to keep her balance. Immediately, fans watching The CMA Awards expressed their concern.
Is #WynonnaJudd ill? The way she was moving during this performance looks like she can't was struggling to keep her balance. #CMA #CountryMusicAwards #CMAS

— Leema (@mimi4sure) November 9, 2023
How many people running socials to try to figure out what the heck is going on w Wynonna Judd… @CountryMusic #cma #CMAAWARDS

— Shelly Fields (@ShellyFields) November 9, 2023
Ok, no one is talking about the elephant in the room. What's wrong with Wynonna Judd? Drunk or unhealthy? #CMAawards

— dpickle (@dugpickell1) November 9, 2023
Can anyone tell me what was going on with @wynonnajudd at the #CMAawards tonight? She was holding onto jelly with a death grip! pic.twitter.com/HkTQwlvwT2

— denise robbins (@DeniseRobbins74) November 9, 2023
Some speculated that the vertigo she struggles with may have popped up and caught her right before she headed on stage. Now, according to Classic Country Music, Wynonna is sharing what the culprit was behind her shaky show. She headed straight to Instagram after seeing all of the commentary regarding her performance.
View this post on Instagram
Judd shared this:
"They say, 'Don't read the comments.' I've read the comments. I'm just gonna come clean with y'all. I was so freaking nervous. I got out there and I looked at Jelly Roll. I wanted it to be so good for him. I could cry right now, but I'm not going to because I'm such a fan of his and he asked me to sing and I said, 'Absolutely!' I got out there and was so nervous that I just held on for dear life. And that's the bottom line … All is well."
So, it seems that it was simply a case of nerves and nothing more. Keep in mind that Jelly Roll has let viewers know prior that he had a surprise guest singing with him. However, it was such a delightful shock to see Wynonna up there.
Moving On
Now that this has been cleared up, Wynonna Judd fans can go back to enjoying her on The Voice. Furthermore, she is still touring so concertgoers can rest easy. It must feel good to know so many people were concerned and wanted to make sure she was okay.

Were you concerned after seeing her or did you think it was just a moment? Let us know in the comments below.