Miley Cyrus is opening up about her sobriety. The "Malibu" singer admits that she too struggled amid the pandemic. She made a recent appearance on Apple's "New Music Daily with Zane Lowe" in support of her upcoming album, Plastic Hearts. During the interview, she revealed that she didn't want to join the "27 club."
The pop star was also candid about her addiction struggles. While she didn't divulge details, she did admit that she "fell off" her sobriety and now she's "two weeks sober." This latest development comes after she revealed back in June that she was six months sober.
Miley Cyrus gets candid on sobriety
Billy Ray Cyrus's child had a difficult year as well. She revealed that the pandemic has done a number on her. During the interview, Miley Cyrus opened up about her sobriety. She revealed that she "fell off" and no longer wanted to pretend that she has lived these past few months sober.
"I fell off and I realized that I now am back on sobriety, two weeks sober," she told Zane Low. "I feel like I really accepted that time."
Miley is choosing not to be hard on herself. Instead, she wants to inquire. She asks herself questions about her struggles.
"One of the things I've used is, 'Don't get furious, get curious,'" she explained. "So don't be mad at yourself, but ask yourself, 'What happened?'"
The former child star used in moderation in the past. But it's something that doesn't work for her. However, Miley believes that everyone's recovery journey is different. That may not be sobriety for everyone, says Miley. She shared that drinking alcohol can lead to other unhealthy behavior.
"I don't have a problem with drinking," she said. "I have a problem with the decisions I make once I go pass that level of … Even into, I've just been wanting to wake up 100%, 100% of the time."
The "Midnight Sky" singer calls the past three years a "cocktail of chaos." It was the time that she split from her husband, Liam Hemsworth, after a year of marriage. Before their breakup, the couple lost their home from the California wildfires.
"Slide Away" singer talks about the '27 Club'
Miley Cyrus turned 28 on Monday, November 23. During the interview, she said that being 27 encouraged her to get sober "because we've lost so many icons at 27."
"Jimi Hendrix, Jim Morrison, Kurt Cobain and Amy Winehouse are a few of the celebrities who all died at that age," Miley explained. "It's a very pivotal time. You get into that next chapter or this is it for you."
The "27 Club" includes the popular musicians and other creatives who died at the age of 27, as a result of suicide or substance abuse. Ever since it originated in the 1970s, it has included numerous young actors and artists. The list of causes have been expanded to include accidents or acts of violence.
The singer described the "27 Club" as "an energy" that she often felt. This is the first time that Miley has shared her inner motivations to get sober. The former Hannah Montana star told Variety back in June that she was sober for six months. This also comes after she talked about her healthy lifestyle.
Miley's latest album, Plastic Hearts, drops on Friday, November 27.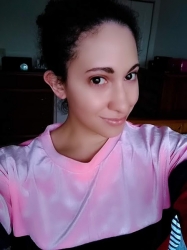 Latest posts by Chanel Adams
(see all)